RBDF's Annual Church Service Sunday at TAR National Stadium

COMMANDER Origin Deleveaux makes some remarks as he is flanked by Petty Officer Shantell Brennen and Chief Petty Officer John Ingraham.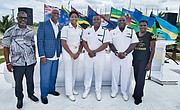 SHOWN, from left to right, are Lynden Maycock, Mike Sands, Petty Officer Shantell Brennen, Commander Origin Deleveaux and Chief Petty Officer John Ingraham.
#By BRENT STUBBS
#Senior Sports Reporter
#bstubbs@tribunemedia.net
#AS their contribution to the celebrations of the Oaktree Medical Center's 50th CARIFTA Games, the Royal Bahamas Defence Force will hold their Annual Church Service 2pm Sunday at Thomas A Robinson National Stadium, followed by the parade through the streets.
#Commander Origin Deleveaux, accompanied by Chief Petty Officer John Ingraham and Petty Officer Shantell Brennen, made the announcement on Wednesday during the Local Organising Committee of the games' weekly press conference, this time held on top of the old-world war bunker opposite the stadium.
#Deleveaux, speaking on behalf of Commodore Dr Raymond king, thanked the LOC for helping to facilitate their 43rd Annual Church Service that will be held under the theme, "The pursuit of excellence as guidance of our heritage, nation builders and community leaders."
#As the best naval base on this side of the hemisphere, Deleveaux said they hope to accomplish their 10 missions as they engage in nation building, especially through the four major youth development programmes that they are engaged in.
#"Everyone is quite familiar with the Rangers, which sets the standard in youth development in the Commonwealth of the Bahamas," Deleveaux pointed out. "We have Rangers on 7-8 islands with over 2,000 active Rangers and so when we talk about nation building, this is what we do.
#"We also have another programme called Hype – Helping Youth People Excel. We also have Programme Sure and the last programme we have is called Taps.
#"So, when it comes to nation building, this is what we do in terms of ensuring that our kids are inspired to do bigger and better things."
#As community leaders, Deleveaux revealed that Commander King has instructed every department of the RBDF to engage in some type of initiatives to raise the level of participation with their neighbours and friends in their communities.
#Apostle Raymond Wells, of Living Waters Ministries, will deliver the message during the service for the first time as they partner with the LOC of CARIFTA as they come out and be a part of the whole experience at the stadium before the public gets to see the RBDF adorned in their uniforms during the march. "Everybody knows that the Royal Bahamas Defence Force has the best band in the land," Deleveaux said.
#"They will be leading the way. We are excited, not only about it, but we're excited for you because you will have an opportunity to view it."
#Rolle revealed that the parade will leave Bahamas Games Boulevard and head north to University Commons to Blue Hill Road north to Tucker Road. From there, the parade will travel west to Water Street and head north onto Lakeshore Road. From there they will traverse to Hayler Street to Rupert Dean Lane on to Poinciana Drive and head west to University Drive to University Commons and back to the Bahamas Games Boulevard where it will end in the parking lot.
#Lynden Maycock, the chief executive officer of the LOC, said they are pleased to be able to accommodate the RBDF, who have been a tremendous support to CARIFTA, which has been hosted here eight previous times.
#"We say thank you for all that you do," Maycock summed up.
http://www.tribune242.com/news/2023/mar/17/rbdfs-annual-church-service-sunday-tar-national-st/?news