Martin to launch Andros track, field camp
As of Wednesday, April 19, 2023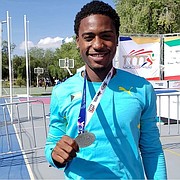 HOLLAND MARTIN
#By TENAJH SWEETING
#tsweeting@tribunemedia.net
#ANDROS native Holland Martin will launch a track and field sports camp on Queen's Park in Fresh Creek, Central Andros.
#The newest track and field camp on the nation's largest island will start on April 22 and run until June 16. The camp will be open for boys and girls between the ages five and 17.
#The Bahamian professional track and field athlete and former national team member saw the need for a sports camp for the youth on the island and decided to be the change he wanted to see.
#Martin talked about his motivation for starting the camp in his hometown.
#"I moved back home a few months ago and since I've been home things have changed and are a lot different from when I was growing up," he said.
#He added that he just wanted to implement a camp so that the kids on the island can have something to do after school because he felt like no one was taking the initiative to provide them with the opportunity, therefore, he decided to do it himself.
#The professional track and field athlete noticed that when he grew up on the island, they had more options across the various sports such as basketball, baseball and track and field but nowadays it does not seem like there are any extracurricular sports for the youth.
#Although registration numbers have started a bit slow for the young coach, he is optimistic that once more people sign up for the camp others will start to join.
#"It's kind of challenging because people don't really take interest in stuff until they see others start to take interest in it," he said.
#He added that his mindset is to just start and remain consistent so that when others see that he is consistent with the camp more people will begin to register. The next purpose of the programme is to help young boys and girls in Andros to get the same opportunities he was afforded growing up.
#The 25-year-old grew up in Andros but transferred to Freeport in his senior years of high school which opened the door for many opportunities, including competing in CARIFTA for the first time.
#It is also his plan to use the connections that he has established over the years to help out the potential athletes to get scholarships and perfect their craft.
#The Andros native had this final message for his community as he urged them to register.
#"If the kids are interested just take the opportunity, they will not regret it, the youths are the future and we have to invest in them and it gives them the opportunity to be properly trained by someone who has been there and has the background to know what is going on," Martin said.
#For persons who are interested in signing up for the camp, registration is free. Practices are scheduled from Monday to Friday from 3:30 to 5:30pm and beyond if necessary.
#For those that require private training, Martin provides that as well per special request. The contact to join is 425-5110 or hollandmartin@gmail.com. The rates are categorised as daily, weekly and monthly and are to be determined by Martin when the camp gets fully underway.
http://www.tribune242.com/news/2023/apr/19/martin-launch-andros-track-field-camp/?news