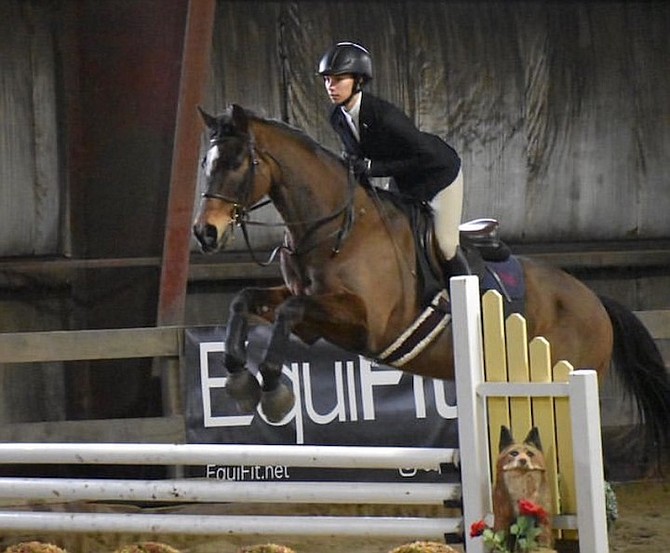 Carisa rides "Phoenix" in an Over Fences competition.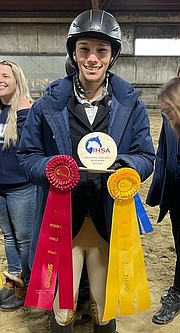 RWU Hawks team captain Carisa Brogdon places 2nd and 3rd to advance to the IHSA Zone 1 Finals.
#BAHAMIAN collegiate rider Carisa Brogdon is fulfilling the early promise she showed as a freshman both in and out of the riding ring.
#Brogdon competes with the Roger Williams University Hawks Equestrian Team in Zone 1, Region 1 of the Intercollegiate Horse Show Association (IHSA).
#IHSA competitions take place under a horse-draw format, meaning that horses and riders are randomly matched.
#This format tests the horsemanship skills of the riders who must navigate jump courses and under saddle equitation tests on strange horses.
#Under the guidance of coach Nikki Speranzo, Brogdon's performances throughout the show season, which included multiple 1st and 2nd placings, helped her team earn a spot to Region 1 post-season competition.
#At Regionals, Brogdon placed 3rd in the Limit Over Fences and 2nd in the Limit Flat Divisions, becoming the only member of her team to advance to the IHSA Zone 1 Finals.
#The Zone Finals took place at Mount Holyoke College in South Hadley, Massachusetts.
#Brogdon rode well enough to finish in the ribbons, earning a 9th place finish in the Limit Flat Class, but failed to advance to the National Finals.
#Now a junior, Brogdon is making her presence felt on the RWU Campus – she has been named the Captain of the varsity equestrian team, is the president of the student athletic advisory committee and holds a lead ambassador position in the University Admissions office. Brogdon is pursuing a double major in marketing and business analytics with a minor in graphic design.
#She credits equestrian sport with helping her to maintain a balanced and disciplined approach to university life.
http://www.tribune242.com/news/2023/may/01/brogdon-makes-collegiate-equestrian-zone-finals/?news