RAY MINUS JR 'WAS A GIANT OF A MAN': Bahamian boxing great dies at 58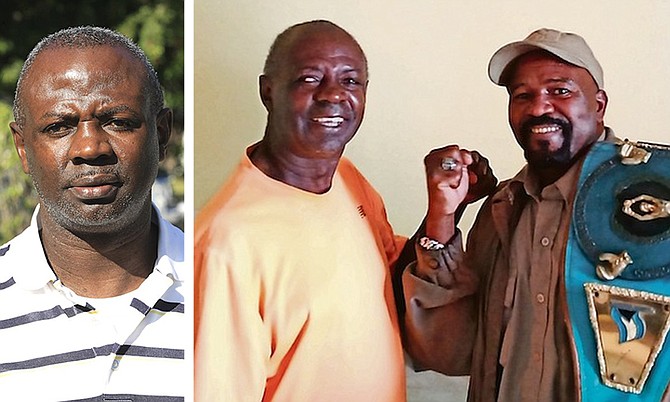 Ray Minus Jr (left) and pictured with Quincy Thrill-a-Minute Pratt.
#By BRENT STUBBS
#Senior Sports Reporter
#bstubbs@tribunemedia.net
#Legendary Ray Minus Jr, the country's most celebrated boxing extraordinaire, who touched the lives of so many persons as a fighter, trainer, coach and promoter, passed away yesterday after suffering from Lou Gehrig's Disease (ALS).
#The 58 year-old Bahamas bantamweight, lightweight and light welterweight champion, who went on to win a number of international titles, including the World Boxing Council (WBC) Continental Americas bantamweight title, World Boxing Association (WBA) Inter-Continental super bantamweight title, and Commonwealth bantamweight title, passed away at Princess Margaret Hospital around 9:25am.
#He was admitted there for the past two weeks and on Thursday, during a tracheostomy – an opening surgically created through the neck into the trachea (windpipe) to allow air to fill the lungs – it was unsuccessful and he died. Doctors reportedly revived him at least three times before he passed away.
#On his passing, Minus Jr left to mourn a host of family and friends, including Michelle, his ex-wife and co-partner in First Class Promotions, his daughter Rayshell, his father and long-time trainer Ray Minus Sr, a legend himself and his brothers Renaldo 'the Terminator' and Kenny 'Lightning' Minus, all of whom were Bahamian boxing champions.
#His daughter, known as 'Daddy's girl', Rayshell said it was difficult for her because when anyone saw her father, they saw her.
#She took care of him for the past few years after he became too weak to do anything on his own.
#"It's still a shock. It was unexpected. We expected him to pull through. But the family are in shock, but they are sad at this time," she said. "He was a strong, full, clownish person who was one who was always respected and he made sure, not only me and his immediate family, he was there for everyone."
#Rayshell put in a nutshell when she proclaimed that "he served his purpose."
#Minus said his brother kept him closer than any of their other siblings.
#"That was the man who made me a man. We travelled together and we supported each other in and out of the ring," Renaldo said. "I learnt more things from him than I did from my own father. We have some memories. He was a giant of a man." Minus Sr, a former Bahamian boxing champion who got his sons involved in the sport, was criticized during the height of his son's career for failing to allow Minus Jr to migrate to Miami, Florida, said he always felt he made the right choice.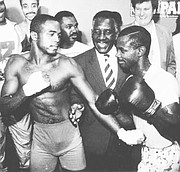 TOP boxers Quincy 'Thrill-A-Minute' Pratt and Ray Minus Jr square off in front of former Prime Minister Lynden Pindling before their first fight in 1992.
#"I did the best I could with him," he insisted. "He was the greatest. No one could touch him. He was too fast. My best memory of him was when he beat Happy Lora. But I still remember when he fought Quincy."
#Miguel 'Happy' Lora won an unanimous decision over Minus Jr on November 27, 1987 at the Convention Center in Miami Beach, Florida, but while many didn't get to watch that fight, there were hundreds who viewed the three epic showdowns that he encounters that Minus Jr secured over Quincy 'Thrill-A-Minute' Pratt, his former sparring partner, in 1992, 1999 and 2000.
#An emotional Pratt, who couldn't hold back the tears said Minus Jr made him the fighter and the man that he is today and he thanked him for the relationship they were able to develop in their post-fighting era.
#"It's a long story, but he was a great warrior. He was good for boxing. He did all he could to help save so many young men who were going down the wrong path of life," said Pratt, who included himself in that category, remembering how he spend some time in the Sampson Penn School for Boys.
#"He was a man who fought for three world titles, he won the Commonwealth British titles, he fought for this country and a man who thought me how to move. He was the man who I learnt my craft from, bot knowing that I would be in the ring against him in three of the greatest fights ever staged in the Bahamas."
#Long after their episodes, Pratt said he and Minus Jr remained close friends. He noted how he even visited Minus Jr when he went into a nursing home. But he said the best memories he recalled was when he visited him at home and Minus Jr put the championship belt on the table and reminded Pratt that he is still the "champion.
#"Although he was ill, he was still funny," said Pratt, who compiled an 11-24 win-loss record before he suffered an injury that prevented him from boxing any further. "He made me laugh. I will miss him. This is a sad time.
#Minus Jr, who also competed for the World Boxing Council (WBC) Continental Americas super bantamweight title against Cesar Soto, WBC Continental Americas lightweight title against Leavander Johnson, World Boxing Organization (WBO) bantamweight title against Israel Contreras and International Boxing Federation (IBF) against Orlando Canizales, left behind Michelle Minus, his former wife and partner of First Class Promotions, his daughter Rayshell, his father/trainer Ray Minus Sr and a host of brothers and sisters, including Renaldo 'the Terminator' and Kenny 'Lighting' Minus, who were both former boxing champions.
#Minus Jr compiled a 37 with 27 knockouts win, nine losses (seven by TKO) and a draw record before he officially retired on December 31, 2012.
Ray Minus Jr, Ray Minus Sr and Quincy 'Thrill-A-Minute' Pratt, pictured left to right, pose together at the funeral of Elisha Obed.
#After his retirement, Minus Jr devoted his time and energy to the Champion Boxing Club where he groomed many of the top amateur and pro fighters including Meacher 'Pain' Major, Jermaine 'Choo Choo' Mackey, Jerry 'Big Daddy' Butler and Alpachino Allen. Together, with Michelle, they formed First Class Promotions, which staged several successful boxing shows in the country.
#As they gathered at the hospital on Thursday, Rayshell said it was a hard pill for the family to sallow.
#Michelle, in bringing the first all female pro boxing card to the Bahamas last month, honored Minus Jr with a red carpet affair, flocked by many of his former boxers as they paid their tributes to him.
#Vincent Strachan, president of the Boxing Federation of the Bahamas, expressed his sympathy on behalf of the boxing fraternity, said Minus Jr will be "greatly missed" and will be very hard to "replace" for what he achieved in the sport.
#"To God be all the glory. Ray fought the great fight. He finished his course. Hence is laid up for him a crown in Glory," Strachan said. "He gave selflessly of himself to the development of boxing at all levels in the world. A great worrier a great champion is no longer with us.
#"My heartfelt condolences to his family on behalf of my family, the Boxing Federation Of Bahamas. I pray that Almighty God will strengthen you and give you comfort and peace in your time of bereavement."
#Minister of Youth, Sports and Culture, Mario Bowleg, also offered his condolences on behalf of the Ministry of which Minus Jr served as a consultant.
#"The country has lost a great boxer and statesman. The sad news of the passing of boxing legend Ray Minus Jr., has rocked the sporting world. The fierce fighter in the ring lost the fight of life today, Thursday, 27th April, 2023; a match we must all contest one day," Bowleg said.
#"The Government of The Bahamas recognized his immense talent and hired Minus to serve as a Boxing Consultant/Instructor at the National Boxing Centre at the Baillou Hills Sporting Complex. Here, Minus taught youngsters from our inner-city communities and inspired new generations of athletes to train, to focus and to dream of the many possibilities in the sport of boxing."
#Bowleg noted thar Minus served dutifully as an employee of the Ministry of Youth, Sports and Culture for nearly a decade, only recently retiring. In November of last year, he said Minus Jr was among the most notable and accomplished sports heroes who were inducted into the National Hall of Fame Class of 2022.
#"The Bahamas has lost a boxing icon and a mentor in the sport of boxing. As a country, we cannot repay Minus for his immeasurable contributions made in the sport of boxing," Bowleg said.
#"On behalf of the Government of The Bahamas, the nation, and members of staff at the Ministry of Youth, Sports and Culture, I extend prayerful condolences to the family and friends of Ray Minus Jr. My deepest sympathies are also extended to the local and international boxing communities. May God strengthen you all during this time of bereavement."
#Minus Jr started his pro career on June 18, 1982 with a knockout win over Angels Torres in Nassau. Although he fought throughout the United States and Europe, one of his greatest fights in Nassau outside of the Pratt sequel came on August 2, 1990 when he lost to Israel Contreras in a ninth round TKO.
#Minus Jr officially retired on March 31, 2001 when he dropped a eighth round TKO lost to Leavander Johnson at the Bally's Park Place Hotel Casino in Atlantic City, New Jersey, a year after he stopped Pratt in the seventh round in their last bout at home in 2000.
http://www.tribune242.com/news/2023/apr/28/ray-minus-jr-was-giant-man-bahamian-boxing-great-d/?news