Xavion Johnson wins bronze in Canada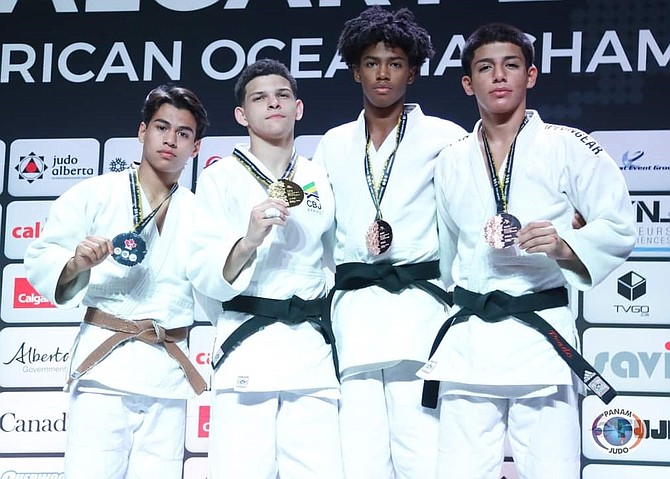 XAVION Johnson (second from right) sharing a moment with the cadets medalists.
As of Tuesday, September 12, 2023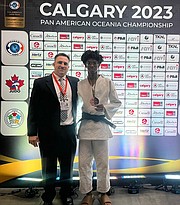 Xavion Johnson with his coach Russell Gallant.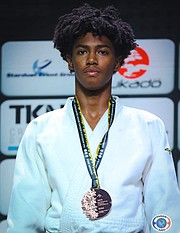 XAVION Johnson with his bronze medal.
#By BRENT STUBBS
#Senior Sports Reporter
#bstubbs@tribunemedia.net
#AS he continues to improve on his career as the next Bahamian judoka to watch on the global stage, Xavion Johnson completed the 2023 Pan American Oceania Championships in Calgary, Canada with a bronze medal in the 60 kilogramme cadet division on Friday.
#However, he didn't place in the junior category on Saturday where he admitted that the competition was very stiff.
#Despite his mixed results, Johnson, now ranked at number 38th in the world as a junior, said he was pleased with his performance overall.
#"My performance was really good throughout the tournament. Winning the bronze medal was really good too," Johnson said.
#Although he would have liked to have placed in the junior category, Johnson said he will definitely use it as a learning experience.
#"I'm really happy that I could get a medal in my last year as a cadet and my last time fighting in this weight division," said Johnson, who is now gearing up to fight in the youth under-21 division where he will be fighting in the 66kg division.
#Johnson, who resides in Alberta, Canada, is currently being trained by Russell Gallant and Evan Beaton out of the Lethbridge Judo Club.
#"I just have to be more calm and work on my gripping a little better," he said. "Other than that, everything is working out quite well."
#The 17-year-old Johnson still has about seven more tournaments to compete in this year before he begins college at the University of Lethbridge in January having completed his high school tenure at Capstone Academy where he was the Salutatorian.
#"I am excited about college. They have a very good programme for international business," said Johnson, who will also be competing on the judo team. "My first priority is school. But I'm looking forward to competing in college.
#"I will be moving up to a heavier weight class, so I just need to get bigger and stronger because I know the opponents will be harder to compete against."
#He thanked his mother, Ordain Moss, and his family and friends, the Bahamas Judo Federation and the Bahamas Olympic Committee for their financial contributions in helping him to get to where he is right now.