: Puerto Rico win 6-1 in Nations League opener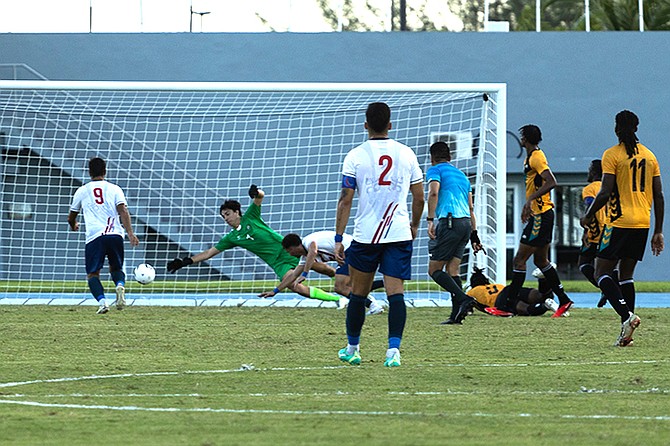 The Bahamas in action against Puerto Rico on Saturday night. Photos: Racardo Thomas
As of Monday, September 11, 2023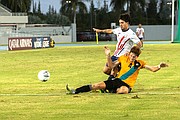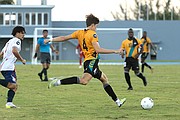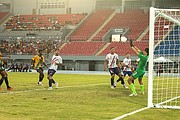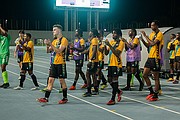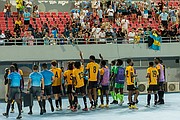 #By BRENT STUBBS
#Senior Sports Reporter
#bstubbs@tribunemedia.net
#AFTER getting off to an "electric start" from a quick shot from Christopher Rahming to ignite the home crowd inside the Thomas A. Robinson National Stadium, the Bahamas men's team could not stop the relentless onslaught from Puerto Rico as they responded with a flurry of goals.
#In what many expected to be a keenly contested match-up to the end, Puerto Rico claimed a 6-1 victory on Saturday to start both teams' appearances in the 2023 CONCACAF Nations League home and away series.
#Rahming's goal that came right up the centre of the field into the net in the first two minutes of the game, was shortlived for the Bahamas as Puerto Rico got the equaliser from Gerald Diaz in the sixth minute.
#Puerto Rico took the lead in the 14th minute from Ricardo Rivera and before they closed out the first half, they got a pair of insurance goals from Joel Burges and Rodolfo Sulio in the 35th and 42nd minutes for a commanding 4-1 lead at the break.
#Although the Bahamas had a couple of chances to get at least one more goal on the scoreboard, Burges came back in the second half and completed a hat-trick in the 86 and 89th minutes to put the stamp on a convincing victory.
#Despite the loss, Bahamas head coach Nesly Jean noted that his young but talented team will only get better from the experience they gained.
#"I think the guys did pretty well, especially in the second half," he said. "Obviously in the first half, there were a few mistakes that we needed to adjust. In the second half, we did that. But it's a learning experience for the younger guys.
#"Some of these guys were making their debut, so we're going to make mistakes. In the meantime, we must learn from it."
#Jean, a former national team player, said their plan was to analyse what Puerto Rico would do and if they pressed really high, they would hit them on the counter. He said they did it, but they needed to push it a little more in the first half, as they did in the second, to counter attack their opponents.
#William Bayles, a centreback, noted that they got off to an electric start, scoring the first goal, but they allowed their opponents to take control of the tempo of the game and they underestimated themselves.
#"In the second half, we showed what we could do. We were all over them for the first 30 minutes of the second half. We kept the ball, we were getting chances, we just needed to put those away," Bayles summed up.
#And Wood Julmis, a striker, said they got a "perfect start with a beautiful team goal," but they "fell asleep" and allowed a few mistakes that enabled Puerto Rico to rally back.
#"We found our identify," Julmis said. "Normally, we would sit back and allow teams to come to us and hit them on the press, but today we saw and we executed. We realised that we could play with the big teams and we moved the ball and got better chances."
#If there's one lesson they can take away from the game, Julmis said it's the fact that they can trust themselves to take a lot of risks as they get on the scoreboard early and try to win more games.
#He said that the fans in the stadium really inspired them to perform.
#"I played a few home games, but I think this was the most fans I've seen as a player," he said. "Since Covid-19, we really appreciate it as a team. Even when we were down three to four goals, they were still cheering and rooting for us. It's 11 players on the field, but the fans are our 12 players and we really felt that home support."
#After the game, the team left town and headed for Guyana where they will play their next game on Tuesday. Jean said they will face a different team and a different style of play, so they will have to make the necessary adjustment and be ready for the challenge ahead of them.
#"We have nothing to lose. We need to take risks," said Jean, who noted that there were no injuries to report after their game against Puerto Rico. "By doing that, we will get our chances."
#Puerto Rico's head coach said they showed a lot of resilience, bouncing back from the 1-0 deficit.
#"We started playing Puerto Rico football," he said. "The scoreline is a little bit funny for me because we were so close to having a lot more goals than what we did there with six. We just implemented a new system, so I'm proud of the boys, how they were willing to play it.
#"It was very risky, but this is our identify and it was really fun watching them be brave and taking those risks at times when we played some beautiful football, which was appealing to the eye. But the scoreline says it and it was a great moment for our team."
#He said he wasn't surprised by the performances of his young team and hopefully if they can get through their recovery process really quickly, they will be able top put up the numbers he expects when they play their home game right here on Tuesday in hosting Antigua & Barbuda at 7pm.
#Team captain Nicholas Cardona said they played aggressively and they are trying to learn as quickly to score as many goals as they can and go on to win a lot of matches.
#"They scored in the first few minutes of the game, but we knew that we had a lot of time, a lot of minutes to impose our game on them," said Cardona, about the win over the Bahamas. "In the second half, we started a little slower, but we are aware of it and we will train harder to play better in our next game."
#The teams are playing out of League B and Group D in the CONCACAF's 2023 Nations League that will be played over the next three months for a chance to advance to League A at the end of the season.