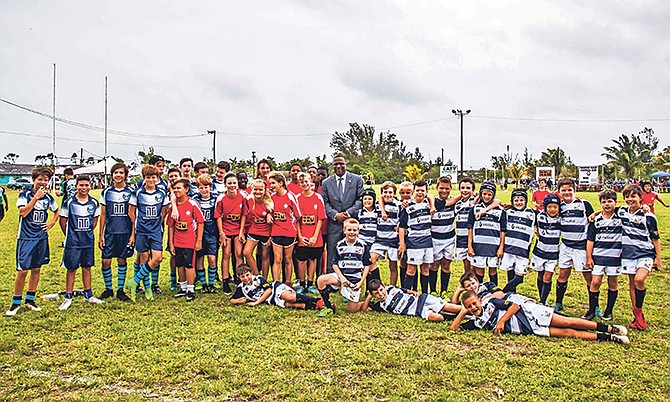 The club is expecting over 250 youth players from the ages of 8 to 17, in both the girls and boys age groups.
#FREEPORT Rugby Football Club (FRFC) is preparing to welcome teams from Cayman, Miami and Nassau for their ninth annual Youth Rugby Festival, starting today with play until May 19.
#The club is expecting over 250 youth players from the ages of 8 to 17, in both girls' and boys' age groups, travelling to enjoy the experience of playing international rugby.
#The festival is a culmination of months of dedication from Freeport's coaching staff, players, and numerous sponsors helping to make the event possible.
#"As a non-profit organisation we rely on the goodwill of our members and sponsors, to enable all our youth programmes to operate and to host such an event.
#"Our aim has always been to provide boys and girls in our community with a safe environment to play soccer and rugby, and to pass on the love of this great game to others."
#With the return of four visiting clubs, this also means a great tourism opportunity for Grand Bahama, as the teams will also travel with coaches, parents, and supporters.
#"We are thrilled to be heading back to Freeport, to visit with this great club," said Cayman coach Mick Kehoe.
#"Our players and parents look forward to this trip all year, and it's great to see these young athletes renew friendships they've made over the last nine years," he added.
#The club welcomes spectators to watch the action, which will kick off with a welcome reception for players on Friday, with games starting on Saturday morning at 9am and running until Sunday afternoon.
#The games will also be streamed live to Cayman Islands, which can also be viewed by fans of rugby via this link:
#https://livestream.com/crfutv/events/8681072
#"The club extends its gratitude to its generous title sponsors, including The Bahamas Tourism Board, The Ministry of Youth, Sports and Culture, the Grand Bahama Port Authority, Port Lucaya Marketplace, and ALIV, who will provide wireless services for all visitors and invaluable local business and supporters.
#"We invite everyone to come down and watch the games," said President Speller.
#"We will have food, drinks, and of course some great Rugby," added Speller.