Game On At Annual Rugby Tournament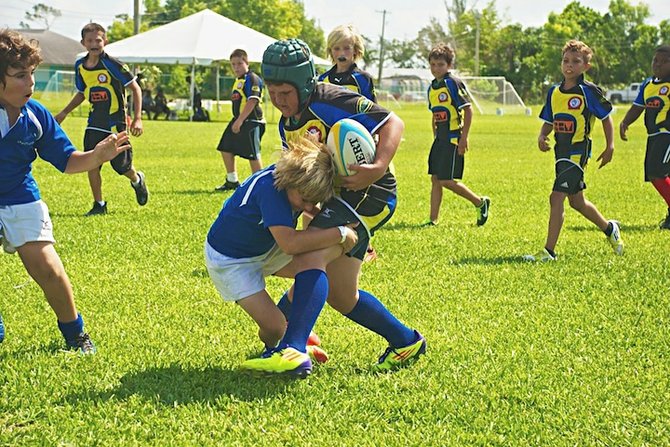 #THIS weekend, the Freeport Rugby Football Club (FRFC) will host the 4th Annual Junior Rugby International Tournament.
#Teams from the ages of eight to 16 from the Cayman Islands and Key Biscayne, Florida, will arrive to play with the teams in Freeport.
#Every year, the Cayman team has travelled for this annual event, and this year they will bring their largest group ever of 120 players, coaches and supporters. The Cayman team has chartered their own jet to the Bahamas and will also bring the National Rugby team to play the Bahamas National team during the festival.
#Back again are the Key Biscayne "Rugby Rats" who will be bringing over 120 adults with 75 children, ready to play hard for their club.
#As well as watching the children play, rugby supporters will be able to cheer on the dads who will play in a "Golden Oldies" match, for men over 35 years of age, before the special international game between the Bahamas and the Cayman Islands to be played Saturday evening.
#"This will be great because the kids who train in Freeport every week will get to enjoy the game all weekend and hang out with the kids from other countries," said Rob Speller, FRFC President. "Making new friends is part of the sport and on top of that they will get to enjoy a BBQ and pool party too."
#FRFC Rugby Youth Coach Nigel Kirkby noted, "Our boys have been training every Saturday morning and have worked really hard to learn all the skills for this weekend. My thanks to the moms and dads who have really supported them and the corporate sponsors who make this event possible."
#The first game will start on Saturday, May 3, at 9am. The games will continue until 3:30pm for a round robin competition. The Golden Oldies game starts at 4pm and the day rounds off with the Bahamas versus the Cayman International at 5.30pm. Sunday morning games start at 10am and the Youth Festival will finish at 1pm. The club is hoping for lots of support as the visiting teams have made such a great commitment to this event and Grand Bahama.
#"We look forward to a wonderful weekend of Youth Rugby, thanks to Cayman and Key Biscayne for making the festival possible," Mr Speller added. "We hope all the parents and families will come out and support the kids on Saturday and Sunday."