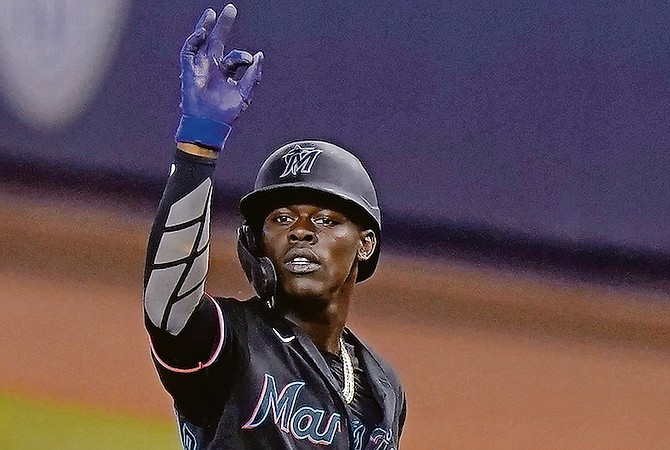 Miami Marlins' Jasrado "Jazz" Chisholm Jr. (AP File photo)
As of Friday, November 4, 2022
#By RENALDO DORSETT
#Tribune Sports Reporter
#rdorsett@tribunemedia.net
#New Miami Marlins manager, Skip Schumaker, said he has already met with Jasrado "Jazz" Chisholm Jr and both are excited about the future plans for the All- Star second baseman.
#Schumaker, who was officially introduced in his new role at a press conference yesterday, took time to highlight the impact he expects Chisholm to have as the two began to build their relationship with several informal meetings this week.
#"Jazz is incredible. He's fun to watch. From the other side, he plays with a lot of flair and it's high energy, you know what you're getting, it's 100 percent all the time, and he runs the bases hard," Schumaker said. "Getting him healthy is going to be the key because he starts the engine for me. A healthy Jazz is a really good year for the Miami Marlins."
#As a player, the 42-year-old Schumaker won a pair of World Series with the St Louis Cardinals (2006 and 2011). He served as a first-base coach and associate manager for the San Diego Padres from 2018-2021, then joined the Cardinals' staff as a bench coach last season.
#"I want Jazz to realise and know what winning looks like and what leadership looks like," Schumaker said. "We've had long talks, he's excited about it, I'm excited about having him on this side and it should be a fun year."
#Schumaker was hired Tuesday by the Marlins to become the 16th manager in franchise history after what the team described as "an extensive process."
#"As we continue to grow as an organisation, we felt it was important to find an individual who had been a part of a winning culture," Marlins general manager Kim Ng said. "Having been a member of two championship teams, along with his reputation for tenacity and getting every ounce out of his ability, Skip will be a tremendous example to our players. His leadership style, teaching skills and attention to detail made him the clear choice as the club's new manager."
#The Marlins went 69-93 last season, their 12th losing season in the last 13 years. In 2020, they advanced to the playoffs in the COVID-19 shortened season and finished 31-29.
#"I'm very excited and grateful that Bruce, Kim and the Marlins organisation have given me an opportunity to manage a very talented team," Schumaker said. "Delivering a winning, sustainable culture with the expectation of getting into the postseason is the next step for this organisation and South Florida – and I can't wait to get started."
#In the offseason, Chisholm has continued to expand his role into the media with MLB network.
#He served as an in-studio analyst this postseason on MLB Network for the divisional playoff rounds and was a correspondent for the T Mobile 5G BP show for the World Series.
#In a 2022 preempted by injury, Chisholm solidified himself as one of the sport's rising stars. He produced an All-Star campaign that included a .254 batting average with 14 home runs, 54 hits, 45 RBI, 12 stolen bases, and scored 39 runs and an .860 OPS through 60 games.
#Chisholm's last appearance on the field in a Marlins uniform was June 28. He originally suffered a back injury early in the season on a slide and eventually re-aggravated the injury in late June, which forced him out of the lineup. He later revealed that he played this season with a torn meniscus which he suffered in training camp. Since he made his historic MLB debut in September 2020, the 24-year-old infielder has since produced a 5.0 WAR over three seasons with 178 hits, 117 runs scored, 104 RBI, 37 stolen bases, 34 home runs, 31 doubles and nine triples across 205 career games.
http://www.tribune242.com/news/2022/nov/04/healthy-jazz-really-good-year-marlins/?news