As of Wednesday, December 14, 2022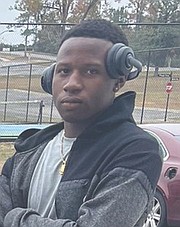 MICHAEL Albury Jr
#By BRENT STUBBS
#Senior Sports Reporter
#bstubbs@tribunemedia.net
#AFTER watching his big brother Deyton Albury leave Temple Christian to pursue his basketball career in high school in the United States, Michael Albury Jr has made the transition to Florida from Teleos Baptist Academy where he was a star player for the Cherubims basketball team.
#The 17-year-old Albury Jr is now enrolled at Florida Coastal Prep Sports Academy where he is playing as a six-foot guard.
#"It's been good. I fit well with the school and the system that they run," Albury Jr said. "I know I can score, but I'm just being athletic and trying to learn how to play defence to really help the team."
#On Saturday, Albury Jr came through with a game high 17 points, including the go-ahead basket to help lift the team to victory over Life Christian High School. "I feel very good. They didn't know that I would perform the way I did, but I went out there and I did my best," Albury Jr said. "Our coach had a good game plan for us and my team really rallied behind me once they saw what I could do."
#His father Michael Albury Sr said after watching the successful path that Deyton Albury took, he was delighted to set the stage for Albury Jr to follow suit. Deyton left Temple Christian where he shined with the Suns in 2019 to enroll at Sunrise Academy in Bel Aire, Kansas.
#Upon completion of high school, Deyton Albury went on to play one year for Prep. He's now holding court at Chipola College in Marianna, Florida. The number four ranked Indians are riding a perfect 15-0 win-loss season going into their next game on Saturday against Enterprise State Community College.
#"I feel good about him leaving the nest. He always wanted to follow in his big brother's footsteps," Albury Sr said.
#"Now that he has the opportunity, he is going to shine. I know Mike is always ready to play when his name is called.
#"He was never afraid to play against the big boys. It all started on BFM (Bahamas Faith United) basketball park and from what I saw as he continued to develop, I think Mike is going to be an excellent basketball player."
#Albury Jr said it was something that he waited so long to accomplish.
#"I would like to play basketball and see how far I can go with it," Albury Jr said. "If I don't go to the NBA, I would like to be able to go overseas and play so that I can help my family out. I just want to make a name for myself."
#Albury Jr will be returning home for the Christmas break on Sunday before he returns to Florida on January 3 to continue his season. "School wise, its been good. They really enjoy me coming over," Albury Jr said. "The principal loves me, the coaching staff loves me. That's something I was hoping that I would get into because my education comes first before basketball.
#"I wanted to make sure that wherever I go, I would be able to concentrate a lot on my education and not just basketball. The basketball will come, but I want to be able to accomplish my education so that I can go on to play college basketball as well."
#Albury Jr said he certainly misses home and is looking forward to interacting with his family and friends, especially those at Teleos.
#He remembers how Teleos hosted a day for him before he left and he cried like a baby because it was a heartfelt departure.
#"I am coming on Sunday and they are closing on Friday, so I won't be able to return to school," Albury Jr said. "I will just spend some time with my family and some of my friends from my old school at Teleos.
#"But I hope to get in some basketball as well because I need to stay physically fit because the season is just going to get started when I return to school in January."
#Albury Jr thanked God for giving him the ability to achieve this transition with the support of his parents.
#He also thanked all of the players he played with and the coaches who worked with him in the past.
#FROM PAGE 11
http://www.tribune242.com/news/2022/dec/14/albury-jr-following-his-brothers-footsteps/?news