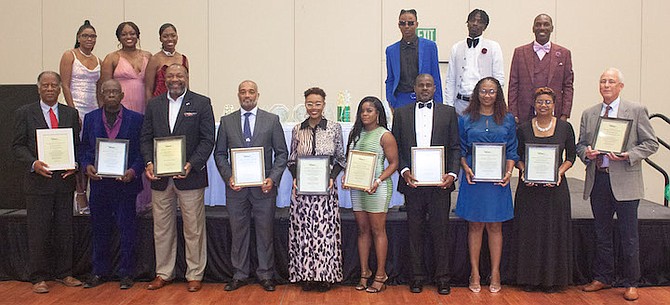 COACHES and sponsors with their plaques on Saturday at the Roadrunners Track Club's 22nd annual presentations and awards banquet for their athletes.
As of Wednesday, December 14, 2022
#ON Saturday, the Roadrunners Track Club, led by president and head coach Dexter Bodie, hosted their 22nd annual presentations and awards banquet for their athletes.
#This event has been a staple for the club for several decades and each year they are happy to provide a space for the recognition and celebration of their athletes.
#The banquet occurred in Atlantis' Imperial Ballroom and was presented under the esteemed patronage of three of the club's young female coaches Edvania Missick, Stephanie Stubbs and Krysten Black.
#These ladies have been dedicated to the development and growth of the athletes and have been an integral part of the track club from the time they were young athletes themselves.
#They have continuously given their time and talents for the betterment of the club and its athletes. The club was enthused to honour them and their hard work and dedication during the ceremony.
#The night began with a thoughtful prayer and blessing of the food by one of the club's parents.
#The room was then filled with the melodic sounds of the national anthem sung by the talented Danielle Dorsette.
#She graced the audience with several selections throughout the night and received a standing ovation on each occasion.
#The keynote speaker, and long-time supporter, Timothy Ingraham, general manager of Summit Insurance, shared a captivating message filled with encouragement and wisdom.
#He motivated the athletes to stay focused, not only on their athletic endeavours, but also on their academic pursuits.
#He shared relatable stories about his own son when he was in a similar position to the young athletes navigating school, athletics, and future goals and dreams.
#Ingraham shared that while it is important to be confident in your abilities, it is also important to focus on your craft and continuous improvement.
#Demonstrating your capabilities rather than talking about them or talking less and working harder is the better route to success.
#He used the example of a certain American sprinter who was extremely boastful off the track but could never quite translate that to on-the-track performance.
#Following Ingraham's uplifting message, the Mistress of Ceremonies, Mrs Vargas began the portion of the night that the athletes were all waiting for, the awards.
#There was an award for academic performance named after former Roadrunner, Jenero Knowles.
#The Timothy Ingraham Honour Roll Award recognised those student-athletes who achieved a GPA of 3.0 and higher. There were several awards such as most improved athlete, best male and female athlete and athlete of the year.
#As the student-athletes came up one by one to accept the awards they floated throughout the room wearing their Sunday best looking like 'cool kids' and showing off from head to toe.
#After the presentation of awards the attendees were happy to welcome Harrison Petty to give his remarks and encouraging words.
#Petty serves as the president of the Bahamas Parents Association of Track & Field Athletes.
#Another long-time supporter of the Roadrunners Track Club, Petty's remarks were met with keen interest.
#One of the highlights of the night was the moment Roadrunners athlete Tellica Seymour presented a donation to the club on behalf of her father's company One on One construction.
#She highlighted that her father, Tellis Seymour, and the company really appreciate all the work that the club puts into their athletes and how they give them a space to grow and develop.
#She also spotlighted the work that coaches Stephanie Stubbs, Edvania Missick and Krysten Black were doing and presented them with tokens of appreciation.
#Before the evening's proceedings ended, pastor Diana Francis of the First Baptist Church shared remarks and prayed for the track club.
#Along with this year's honorees, guests of honour included Mrs Patrice Adderley and guest, Mr Phil Smith, Mr & Mrs Timothy Ingraham, Mr Travee and Dr Shantel Missick, Pastor Diana Francis, Mr Terrance Arnette, Mr & Mrs Harrison Petty, Mr & Mrs David Higgins, Ms Madia Butler, Dr & Mrs Graham Cates, Mr & Mrs William Delancy, Dr Clive Gaskins and Mr & Mrs Tellis Seymour.
#• Winners of the various awards are as follows:
#Dominique Higgins Award
#Shaneka Sands, 4.00 GPA; Chanelle Hepburn, 4.00 GPA; Gabrielle McLean, 3.24.
#Most outstanding athletes
#Melody Thompson (u-7 girls); Logan Thompson (U-7 boys); Ariel Thompson (U-11 girls); Avery Johnson (U-11 boys); Azalia Henderson (U-13 girls); Ashley Demeritte (U-13 boys); J'Kaiyah Rolle and Teran Davis (U-15 girls); Trent Ford (U-17 boys); Raeyah Taylor (U-20 girls) and Desmond Harris (U-20 boys).
#Athletes of the year
#Chanelle Hepburn (U-7 girls); Christovia Moss (U-9 girls); Ronald Simon (U-11 boys); Cassidy Edwards (U-13 girls); Shawne Ferguson (U-13 boys); Jasmine (U-15 girls); Tamia Taylor (U-17 girls); Dana Rolle (U-17 boys); Sabriya Farquharson (U-20 girls); Malcolm Williams (U-20 boys).
http://www.tribune242.com/news/2022/dec/14/roadrunners-track-club-hosts-22nd-annual-awards-ba/?news