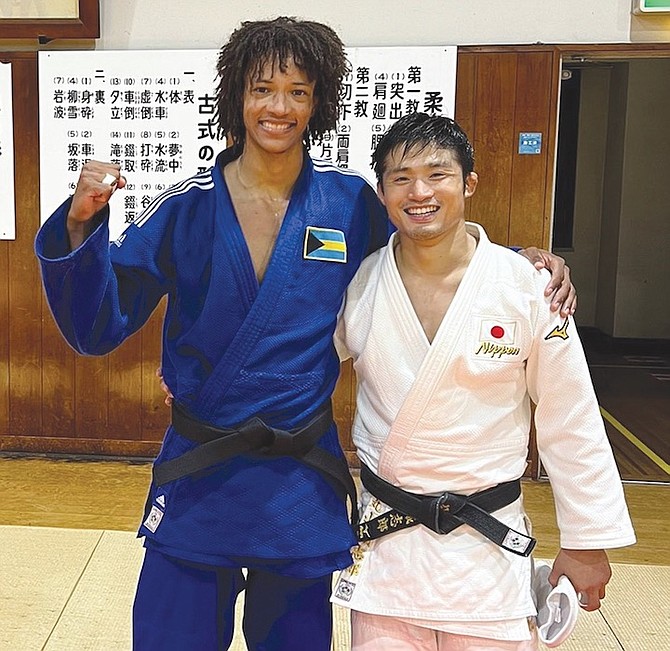 ANDREW MUNNINGS, left, and Maruyama Joshiro, of Japan.
As of Friday, December 16, 2022
#By BRENT STUBBS
#Senior Sports Reporter
#bstubbs@tribunemedia.net
#AFTER returning home from a two-month training session in Osaka, Japan, top Bahamian male judoka Andrew Munnings said he's so pleased with his performance that he definitely feels that he will be able to compete at a higher level in the future.
#Munnings, who left town on October 8, returned home on Tuesday night. While he was there specifically for training at the Tenri University, he participated in the Tokyo Grand Slam where he got to make some improvements.
#There was also an international training camp in which Munnings got to train with a number of international competitors who also came to Japan for the camp.
#He said this allowed him to hone his skills as he got to improve on some of the mistakes he made in the past.
#"The experience was really good," Mullings said. "They had just won the All- Japan competition, which made them the number one ranked university. So, the training was above average. Even the international athletes, including grand slam champion and Olympians, when they came there, they were also shocked at how hard they were training.
#"So, it was definitely an eye opener for me, just to see the level the human body can go to. It really helped to make me a stronger athlete on the whole. So, I was really proud of my experience there."
#Before COVID-19, Munnings had the opportunity to train with some of the Japanese judokas at the Tenri University, so when he reached out to them about his decision to return to Japan, they welcomed him. He got to renew some old friendships and also developed some new ones in Japan.
#Having enjoyed his time in Japan, Munnings said he's looking forward to reaching out to some of his other friends in Israel with the view of going over there to train in preparation for the Pan American Championships in April and the Pan American Games in August, while gaining some points at the various open and grand slam competitions to qualify for the World Championships in Doha, Qatar, in May.
#Munnings expressed his gratitude to the Bahamas Olympic Committee for assisting him financially and to Bahamas Judo Federation president D'Arcy Rahming for his assistance in securing the funding that he got, along with the assistance from his family and friends for their support.
#The 24-year-old Munnings was coming off first-round losses at both the Bogota Panamerican and Panamerican Oceania Senior Championships earlier this year.
#He also competed at the World Judo Senior Championships in Hungary in 2021 where he made a first-round exit.
#Before the pandemic struck in 2020, Munnings participated in the Osaka Grand Slam and the Rome European Open in 2019, the World Junior Championships in 2018, the World Senior Championships in Budapest and the Fort Lauderdale Junior Pan American Cup in 2017, the Junior PJC Cup in Santo Domingo in 2016 and the World Junior Championships in 2014.
http://www.tribune242.com/news/2022/dec/16/andrew-munnings-returns-home-training-japan/?news