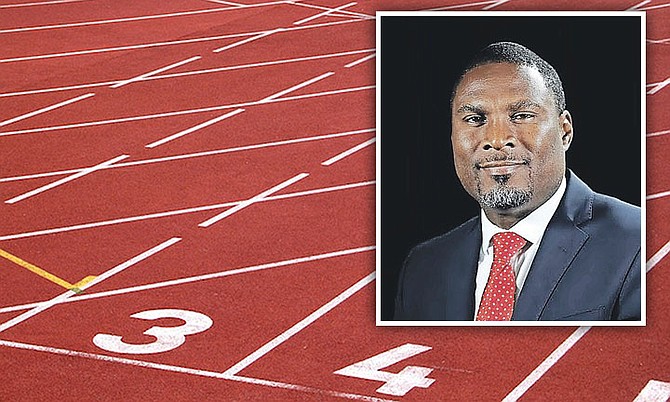 DRUMECO ARCHER
As of Wednesday, September 28, 2022
#By BRENT STUBBS
#Senior Sports Reporter
#bstubbs@tribunemedia.net
#When the Bahamas Association of Athletic Associations holds its election of officers in November, incumbent Drumeco Archer says he intends to seek another four-year term in office as president.
#No date has been finalised as yet, but Archer said he will be running. There are reports that at least three other persons, including immediate past president Rosamunde Carey, former executive Dawn Johnson and Bahamas Association of Certified Officers (BACO) president Ray Hepburn are all expected to throw their names in the hat.
#Looking back at his tenure in office, Archer said it was quite an unusual one.
#"We were in the midst of COVID-19 and in the midst of a lockdown, but still we were able to manage in the process in that we never stopped working," Archer said. "Track never shut down, except for a very short time.
#"We celebrated the idea that we were probably the only sport that established our own protocols that resulted in not one single case of COVID-19 being transmitted during the worst of times. I think that's an amazing reporting to the Bahamian people and to the membership."
#Even when some of the COVID-19 restrictions were relaxed, Archer said the Bahamas was able to achieve two medals at the Olympic Games in Tokyo, Japan and the junior athletes were able to shine at their international competitions.
#"I know people look at results, but I look at results in a progressive way," Archer saiod.
#"I believe we are developing a programme that is sustainable and the Government of the Bahamas has committed to working in concert with the federation to pinpoint athletes all throughout the archipelago to identify athletes outside of New Providence for the future development of the sport."
#While he admitted that his team of executives has done some things that have never been achieved before, he's not concerned about who is expected to challenge his leadership during the elections.
#"When you are dealing with a large amount of people, you will always be politically charged," said Archer, who also ran, but lost his bid for the Free National Movement's seat in the 2021 General Elections.
#"One of the things I don't do is discuss individuals. If you want to ask me anything about the sport, I'm prepared to take that on. But what I would say is there is a strong focus on creating a new sports economy that will have a direct benefit for track and field and its coaches."
#If re-elected, Archer said he will introduce a plan to reward coaches for putting in the work and achieving some level of success.
#"There will be a shift. Either you are on board as we try to grow our programme, or you will move on," Archer said.
#"So, what I've done in four years is to speak to coaches and our stakeholders. I don't know what it is to campaign because if I'm at the track every day, trying to resolve issues, you would be able to judge me on my contributions."
#Once the elections are over, Archer said the federation will be heading into a new direction and he's hoping that he will be given the opportunity to serve once again so that he can set the stage for the revitalisation of the sport going forward.
http://www.tribune242.com/news/2022/sep/28/archer-run-president/?news