Jimmy Butler: 'Seriously, I'm here all the time'
As of Wednesday, September 28, 2022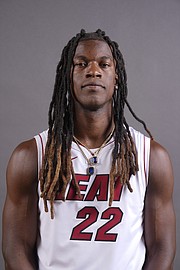 MIAMI Heat's Jimmy Butler poses for a photo during the NBA basketball team's Media Day in Miami on Monday. (AP Photo/Wilfredo Lee)
#By BRENT STUBBS
#Senior Sports Reporter
#bstubbs@tribunemedia.net
#SMALL forward Jimmy Butler, calling himself the greatest domino player in the world, said he's excited to be back in the Bahamas with his Miami Heat team-mates for the start of their five-day training camp.
#Butler, centre-forward Bam Adebayo and veteran forward Udonis Haslem were among the players who addressed the media during the completion of day one of their training session yesterday in the Convention Centre at Baha Mar.
#"This is special. So many good people here who I can now call my family and my friends," said the 6-foot, seven-inch player. "Seriously, I'm here all the time. I love the people here. I'm so glad that the Miami Heat organisation and our people are here."
#The Heat is using this opportunity to prepare for the National Basketball Association's pre-season that starts against the Minnesota Timberwolves on October 4 and the regular season October 19 against the Chicago Bulls.
#While head coach Erik Spoelstra was visibly missing from the first day of practice because of the birth of his daughter – Ruby Grace Spoelstra – on Monday, the session was conducted by assistant coach Chris Quinn. Spoelstra is expected in town today.
#Miami got a chance as well to introduce some of its new faces, including first-round pick Nikola Jovic and two-way contract players Marcus Garrett and Darius Days.
#For the regulars, including Butler, the trip will be used as an opportunity for him to spend some time with his daughter and to play some dominoes.
#"Nobody," said Butler, when asked if there's anybody on the Heat's team that can compete against him in dominoes. "I'm the best in the world, so …" Butler, who signed with Miami on July 6, 2019 via a sign and trade with the Philadelphia 76ers in a four-team trade, said he will be in streets of Nassau playing dominoes. He warned the public that he's "here" and is willing to take on any challengers.
#All jokes aside, Butler, spotting a new hair style, said the Heat's line-up should be an interesting one this year, despite the fact that they lost one of their top defenders in PJ to the Philadelphia 76ers during the off-season.
#"I'm comfortable. I have a good group around me to allow me not to worry about anything," he said. "We got some shooters and we have some really good players."
#The 33-year-old Butler, who averaged 21.4 points with 5.9 rebounds and 5.5 assists per game, said he's confident that the Heat can be a contender for the NBA title this year after they finished as the top seed in the Eastern Conference, only to lose out to the Boston Celtics in the Conference Finals.
#On his new hair style, Butler said he's just being himself.
#"I like it. I'm going to keep it," said Butler, who has grown dreadlocks. "I might shave my face again. I might have half of my face shaved."
#Haslem, the oldest active player in the league at age 42, is now entering his 20th consecutive season with the Heat, whom he began his campaign with in 2002.
#Haslem is the only player who has participated in all three training camps Miami conducted here, the first two in 2013 and 2016 at the Atlantis resort on Paradise Island.
#"It's very important to be here again. The Bahamas has been great to us. I'm part Bahamian. I love coming over here," said Haslem, who attended the University of Florida. "It's like family. We're very close.
#"The people here support us throughout the season. They might not get a chance to come and see us play, but it's great for us to come here and get this personal experience with us. We appreciate them, knowing that they are supporting us, so we want to give them that love back."
#The 6-9 power forward, who dismissed Butler's claim of being the best in the world in dominoes, noting that he beat him before and he would beat him again, said his team-mates keep him going.
#"Every year, there's always a new crop of guys coming in and they are hungry for knowledge and for opportunities," Haslem said.
#"I know it seems like a long time ago, but it hasn't been that long. I was one of those guys, searching for knowledge and searching opportunities to be great.
#"Every year we have those guys come through here and they respond to me and I'm able to help them reach their goals so as long as I can keep playing and God gives me the strength, I'm going to keep playing."
#While dominoes is a side thing for Butler to do, Haslem said he intends to visit one of his favourite spots as he hangs out at the McKenzie's under the foot of the bridge and "enjoy the culture and enjoy the people."
#Adebayo, the 6-9 centre out of the University of Kentucky, said this is his first trip to the Bahamas since his playing days in AAU. He said he's looking forward to spending the time bonding with his team-mates.
#After averaging 19.1 points, 10.1 rebounds and 3.4 assists per game last season as he completed his fifth season in the NBA, he said he's looking forward to making a difference for Miami this year with the team that they have assembled.
#However, he said he was a little concerned about his dog he left at home with the Hurricane Ian heading to Florida this week. Nonetheless, he said he will make the best of his trip here and he's not even going to entertain Butler about beating him in dominoes on the plane ride from Miami.
#The Heat will hold closed session practices through Thursday and will stage a mini-scrimmage game on Saturday where they will entertain the Bahamian public at Baha Mar before returning to Miami for the start of the pre-season.
http://www.tribune242.com/news/2022/sep/28/jimmy-butler-seriously-im-here-all-time/?news