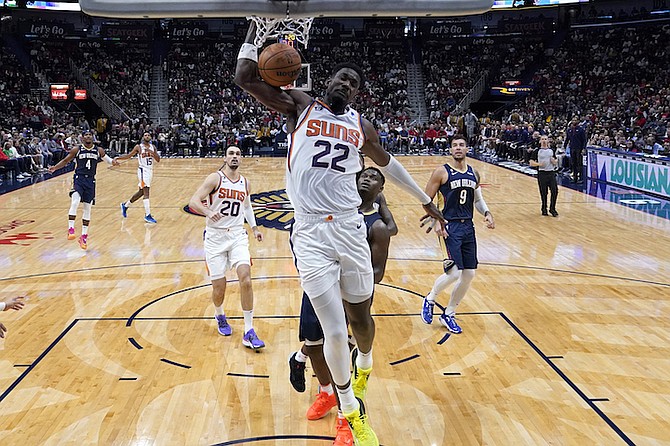 PHOENIX Suns centre Deandre Ayton (22) slam dunks in the second half of an NBA basketball game against the New Orleans Pelicans in New Orleans yesterday. (AP Photo/Gerald Herbert)
As of Monday, December 12, 2022
#By RENALDO DORSETT
#Tribune Sports Reporter
#rdorsett@tribunemedia.net
#THE Phoenix Suns are mired in a losing streak, but Deandre Ayton continues to enjoy one of his best statistical stretches for the season.
#Ayton finished with 28 points, 12 rebounds and five assists, but fouled out after 33 minutes of the Suns' 129-124 loss to the New Orleans Pelicans yesterday at the Smoothie King Center in New Orleans, Louisiana. He shot 13-18 from the field.
#Since November 18, Ayton has posted a double double in 10 of 13 games while averaging 20 points, 12 rebounds and a blocked shot.
#In the month of December, the Suns have lost four consecutive games and five of their last six.
#Ayton began the month with just eight points and six rebounds in a 122- 121 loss to the Houston Rockets.
#He followed with 25 points and 10 rebounds in a 133-95 win over San Antonio, 20 points, three blocks, and eight rebounds in a 130-11 loss to the Dallas Mavericks, eight points and seven rebounds in a loss to the Boston Celtics, and 25 points with 14 rebounds in the first game of a back to back against the Pelicans on December 9.
#Through 24 games, Ayton is averaging 17 points, 9.7 rebounds, and 2.1 assists per game on 63 percent shooting from the field.
#He notched 30 double-doubles last year in only 58 games played and already has 13 double doubles this season.
#"There aren't any mistakes in these Ls," Ayton said. "We just got to break out of it and get back to our rhythm."
#The Suns continue their road trip against the Rockets in Houston, Texas, on Tuesday night.
http://www.tribune242.com/news/2022/dec/12/ayton-has-28-points-12-rebounds-129-124-loss-pelic/?news