As of Monday, December 12, 2022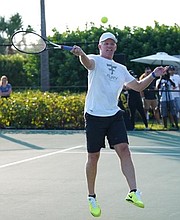 BAHAMIAN tennis ace Mark Knowles in action.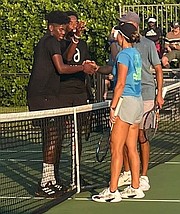 JACOBI Bain and Michael Major Jr congratulate Americans.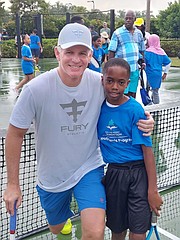 MARK Knowles shares a moment with Donato Adderley, one of the youngsters at the Baha Mar Cup clinic.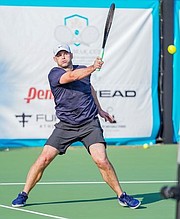 AMERICAN Andy Roddick in action at Baha Mar.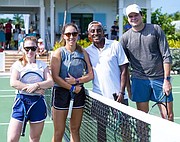 MARCUS Samuelson is flanked by pro players Jessica Pegula, Olga Savchak and Milos Raonic.
#By BRENT STUBBS
#Senior Sports Reporter
#bstubbs@tribunemedia.net
#THE island nation's most decorated tennis player brought the Baha Mar Cup back to the Bahamas for a third time with a line-up of some of the most accomplished male and female players in the world to the Baha Mar Tennis Club over the weekend.
#Five-time Olympian Mark Knowles, who was the world's number one ranked doubles player with Canadian Daniel Nestor, showcased a star-studded line-up that included a pair of former world No.1 singles players in American Andy Roddick and Australian Lleyton Hewitt.
#Also adding to the dynamic feature were Americans James Blake, former No.4 ranked player on the men's side and Jessica Pegula, currently the top American player ranked at No.3 in the world, along with Ukraine's Olga Savchak, a retired player turned coach who is residing part-time in the Bahamas.
#Top Bahamian rising players collegian Jacobi Mitchell and high school sensation Michael Major Jr also got in a series of exhibition matches on Saturday at Baha Mar courts as a part of the charity events put on by Knowles to help raise funds for the development of the game in the country.
#Earlier in the day, they all participated in a youth camp for aspiring tennis players.
#First hosted in 2019, the Baha Mar Cup was postponed in 2020 because of COVID-19, but although it returned last year, Knowles was unable to stage the event because of the inclement weather.
#He was just glad that they were able to be back on the court this year. "It was awesome," said Knowles, who was accompanied by two of his three children, 14-year-old Brody, a 6-foot, 5-inch tennis player and Presley. Graham, a football quarterback remained at home in Dallas, Texas.
#"We were troubled by weather last year, but we couldn't ask for anything better today. The weather was great and the participation was awesome. The line-up might have been the best ever that we have assembled here.
#"To assemble this type of talent here at home was very special for me. I really appreciate the people who supported the event. We had a great crowd for the exhibition, which is why I do it. I want to bring some stars to our country, the Bahamas, which I love so much, for charity to give kids a chance to aspire the next generation of Bahamian tennis players.
#Through the Mark Knowles Foundation, Knowles said they were happy to support Bain, who is now one of the top collegiate players.
#He said he was delighted to see him and Major Jr match up in doubles against Blake and Pegula in a showdown.
#The Americans won 6-3, but it was an entertaining match. So were the other matches that saw Roddick and Hewitt outlast Knowles and Blake 6-2 in men's doubles, while in mixed doubles, Blake and Pegula got the best of Knowles and Savchuk.
#For Pegula, she would prefer no better place to be than in the Bahamas competing in the Baha Mar Cup. "It's been so amazing. Everyone has been so nice and friendly. I've been here before, but I've never been to Baha Mar. It was so nice," she said. "To come out here and play with so much legends was just amazing."
#She said she got thumbs up from Knowles' mother, Vickie, a Bahamian legend tennis player in her own rights, so she's looking forward to making a return to next year's event as she makes the quick trip from South Florida where she resides.
#"It was an amazing couple years for me where I feel I have been improving," said Pegula, who earned her Women's Tennis Association (WTA) rankings in singles and doubles on October 24 after she won two singles titles and five doubles titles on the WTA Tour, one WTA Challenger doubles title, and seven ITF doubles titles.
#"It gets harder and harder to move up, but I will continue to go after the big titles and just keep trying to have fun as I go through the journey. I love competing, so it's fun for me."
#Since the inception of the Baha Mar Cup, Roddick has graced his presence and the former No.1 player in the world in 2003 when he captured the US Open title. The three-time Wimbledon finalist in 2004, 2005 and 2009 as well as US Open in 2006, retired from professional tennis following the 2012 IS Open.
#He said it's a lot of fun to be able to be a part of an event that provides the opportunity for the younger players to get to the next level.
#"Mark has always been passionate about the Bahamas and anytime you make kids tennis relevant, I'm all for it," Roddick said. "But when it's one of your closest friends doing it, it's a no brainer to show up. I'm just humbled that I've been asked to do it."
#Married to American model and actress Brooklyn Decker since 2009 in a union that has produced two children, Roddick said he's just enjoying life and there's no better place to do it than in the Bahamas.
#Also back for a third appearance at the Baha Mar, Blake said it's good that the weather has cooperated so that they could put on the display of their skills to the crowd.
#The 2007 champion of the American Davis Cup team in 2007 got to showcase some of his renowned speed and powerful, flat forehand that elevated him to No.4 in singles in 2006 before he retired in 2013.
#"Mark is such a great guy for what he's doing for his community," said Blake, who now operates the Miami Open Tennis Tournament. "I know how hard it is to put on an event like this. We appreciate it and we're happy to help in any way that we can."
#Blake, a commentator for tennis for ESPN, was accompanied here by his wife, publicist Emily Snider and the parents of two daughters. He said that once invited, he will be back for an encore to the Bahamas.
#After posting her best accomplishment reaching the third round of the 2006 Australian Open and earning a career-high singles ranking of No. 79 on 19 May 2008, Savchuk has since retired and is one of the two coaches of top-ten player Karolina Pilskova, along with Daniel Vallverdu and since November 2020 along with Sascha Bajin.
#"I love being here. This is my first time playing here, but when he asked me to be a part of it this year, I couldn't say no," Savchuk said. "I now live here. I love everything here, especially the beach. I hope to be more involved in tennis here."
#Among those in attendance in the stands was Bahamas sports ambassador Rick Fox, a two-time National Basketball Association (NBA) champion with the Los Angeles Lakers, Bahamas Lawn Tennis Association president Perry Newton and other BLTA executives.