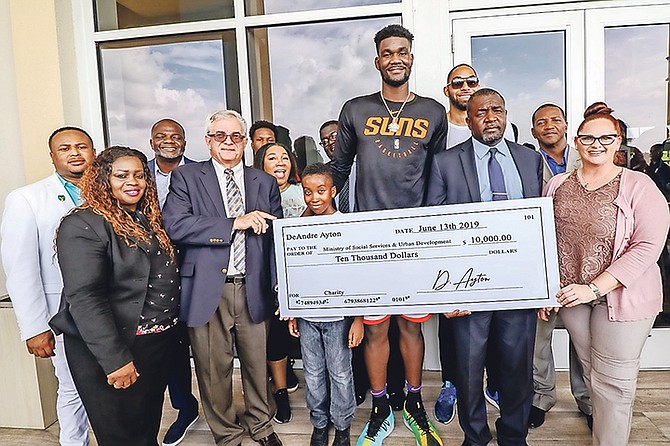 Deandre Ayton hosted a meet-and-greet at Fusion Superplex, and also made a $10,000 donation to the Ministry of Social Services and Urban Development. Photo: 10thYearSeniors.com
#By RENALDO DORSETT
#Tribune Sports Reporter
#rdorsett@tribunemedia.net
#DEANDRE Ayton is back home for the first time since he completed his NBA rookie season and took the opportunity to give back to youth development in the Bahamian community.
#Ayton hosted a meet-and-greet at Fusion Superplex and also made a $10,000 donation to the Ministry of Social Services and Urban Development to assist with their efforts.
#The Phoenix Suns centre considers it a priority and privilege to give back to aspiring players and encouraged young players on their path to do the same.
#"I was in their position once. I can vouch for that. Watching guys come back to the Bahamas like Klay Thompson, Jeremy Tyler, guys being at camps participating with us, just saying what's up can be inspiring. The same look I had in my eyes I can see it in theirs so I just try to be an example and try to represent the Bahamas the best way I can as a motivation," he said.
#"The young guys coming up, just represent the Bahamas the best way you can. You can never really turn away from home. You need that edge, you need to be grounded in your roots. You don't ever want to leave from that and bad karma isn't something anyone wants."
#Ayton was recently named one of three finalists for the 2018-19 Kia NBA Rookie of the Year Award. He will vie against fellow nominees Luka Doncic of the Dallas Mavericks and Trae Young of the Atlanta Hawks when the winners are announced at the 2019 NBA Awards Show presented by Kia on June 24.
#Ayton's debut season in the NBA had several milestones and the 2018 NBA Draft's No.1 overall pick established himself as a force in the league for years to come.
#"Just put God first and always have faith. To get to this level you will be tested and people will try to make you crumble. If you always keep God first and have faith – because God helps those who helps themselves – you will see your hard work pay off and you will see your results and achievements accomplished quickly," he said.
#Ayton finished his rookie with averages of 16.3 points, 10.3 rebounds, 1.8 assists and 0.9 blocks on 59 per cent shooting from the field in 71 games.
#He missed five straight games with a sprained left ankle to conclude the season but still set several franchise records. He finished with 39 double-doubles – a Suns' rookie record and No.12 among all players. He also set the Suns' rookie rebounding record with 729 boards. His field goal percentage was the third-highest in NBA history by a rookie qualified for the league leaderboard and the highest by a rookie who is averaging a double-double.
#Despite his individual success, the Suns finished at 19-63, the worst record in the Western Conference and the worst in franchise history since its first year of existence.
#"Teams did a good job of stopping me but not an individual. Teams do their best to watch the film, see what's my bread and butter and effect my shots around the rim," Ayton said. "The physicality [of the NBA] is definitely up there.
#"With bumps and bruises, you have to really figure it out as well, sometimes you have to play through the pain.
#"Staying healthy is the main thing. It's definitely easier than it sounds but taking care of the little things for longevity every day. Playing some tough games back-to-back, there's barely any rest and you really get exposed when you don't take care of your body. Your performance goes down and if you're not eating the right things you won't produce on the court."
#Ayton was selected as a member of the World Team for the 2019 Mountain Dew Ice Rising Stars Challenge during All-Star Weekend. He finished with 15 points, eight rebounds and five assists but his Team World lost 161-144 to Team USA.
#Ayton set a season high scoring of 33 against the Nuggets on December 29. He set his season high of 18 rebounds on three separate occasions – November 2 against Toronto, December 19 against Boston and December 23 against Brooklyn. He recorded three blocks nine times and six assists twice.
#When the Suns selected Ayton with the first overall pick in the 2018 NBA Draft, it represented an historic moment for Ayton, the franchise and The Bahamas. With Ayton's selection, The Bahamas joined the United States, Canada, Nigeria, and Australia as the only countries with multiple No 1 overall NBA draft picks. It also represented the first No 1 pick made by the Suns in franchise history and the first No 1 pick from The University of Arizona.
#During his lone season at Arizona, Ayton led the NCAA with 24 double-doubles, a PAC-12 freshman record. He averaged 20.1 points and 11.6 rebounds per game while shooting 61.6 per cent from the field, and was "Karl Malone Power Forward" of the year consensus First Team All-American.