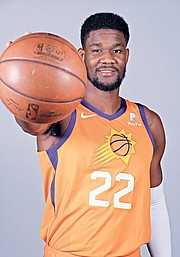 Phoenix Suns' DeAndre Ayton poses for a photograph during media day at the team's practice facility in Phoenix. (AP Photo/Matt York)
#By RENALDO DORSETT
#Tribune Sports Reporter
#rdorsett@tribunemedia.net
#DEANDRE Ayton's 2019-20 preseason debut with the new look Phoenix Suns was a dominant one and gave fans an early look at his progression in the offseason.
#The second year centre finished with 18 points and 13 rebounds in just 21 minutes of the Suns' 111-106 win over the Minnesota Timberwolves at Talking Stick Resort Arena in Phoenix, Arizona, on Tuesday night.
#Matched up against All-Star Karl Anthony-Towns, the Sun went to Ayton early and often. In just the first half, he had 16 points and 10 rebounds, equalling his season averages from his rookie season.
#"You can see the difference for sure," Suns guard Devin Booker said. "I know he put in a lot of work this summer. He stayed in Phoenix and was in the gym with the guys every day."
#Ayton also added two assists and two blocked shots in his first game on the floor for new Suns head coach Monty Williams.
#"I like his presence in the paint," Williams said. "His presence in the paint is going to be huge for us… Once we get more a rapport on offence, he and Ricky are going to have some synergy in pick-and-roll."
#It was also the first time Ayton had an opportunity to play alongside new Suns point guard Ricky Rubio, fresh off his Euroleague World Cup MVP performance over the summer.
#The veteran point guard finished with 11 points, five assists, three rebounds and a steal in his first game with the Suns and looked comfortable in his role as the primary playmaker.
#He found Ayton with a lob for a seemingly effortless alley-oop on one of their several pick and rolls.
#"I'm going to look for him," Rubio said. "He's athletic and he rolls hard to the basket. We just have to get to know each other better. Games like that help a lot."
#Ayton was recently ranked among ESPNs top 100 players in the offseason as No. 66: "As expected, Ayton's combination of size, skill and athleticism made him an efficient scorer. His .608 true shooting percentage ranked him second among rookies who played at least 500 minutes, behind Mitchell Robinson of the Knicks. As Phoenix finds more playmakers on offence, Ayton should be able to improve on the 21 per cent of the team's plays he used as a rookie, becoming more of an offensive force."
#Ayton finished his rookie season with averages of 16.3 points, 10.3 rebounds, 1.8 assists and 0.9 blocks on 59 per cent shooting from the field in 71 games. He was named one of three finalists for the 2018-19 Kia NBA Rookie of the Year Award.
#His debut season in the NBA had several milestones and the 2018 NBA Draft's No.1 overall pick established himself as a force in the league for years to come.
#In a season where he set several franchise records, he finished with 39 double-doubles, a Suns rookie record and No.12 among all players.
#He also set the Suns rookie rebounding record with 729 boards.
#His field goal percentage was the third-highest in NBA history by a rookie qualified for the league leaderboard and the highest by a rookie who is averaging a double-double.
#Despite his individual success, the Suns finished at 19-63, the worst record in the Western Conference and the worst in franchise history since its first year of existence.