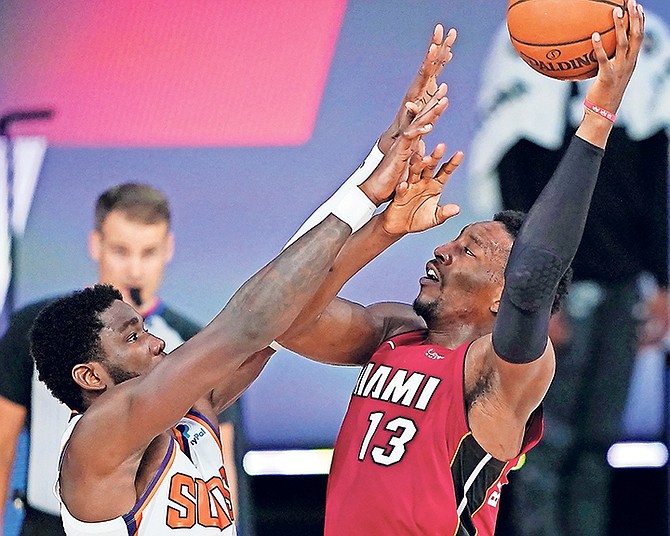 Heat's Bam Adebayo (13) is fouled by Suns' Deandre Ayton during the second half on Saturday night in Lake Buena Vista, Florida. (AP Photo/Ashley Landis)
#By RENALDO DORSETT
#Tribune Sports Reporter
#rdorsett@tribunemedia.net
#THE Phoenix Suns are the lone undefeated team at the NBA restart in Orlando, Florida.
#The Suns improved to 5-0 at the ESPN Wide World of Sports Complex with a 119-112 win over the Miami Heat Saturday night.
#Deandre Ayton posted his third double double in thefive-game stretch – 18 points and 12 rebounds.
#"Coach Monty [Williams] built a culture in us in this bubble and throughout the whole quarantine," Ayton said on ESPN's The Jump.
#"Just instilling sharing the ball playing for each other and playing as a unit when stuff don't go our way."
#Phoenix began the restart to the regular season last among qualifiers in the Western Conference at No.13 and the second worst record among all teams invited to Orlando.
#At 31-39, Phoenix is now two games behind the Memphis Grizzlies for the No.8 seed in the Western Conference playoffs. They are also just 0.5 game behind the Portland Trail Blazers for the No. 9 spot.
#If the No.9 seed is more than four games behind the No.8 seed, No. 8 will make the playoffs. If they are fewer than four games behind, the teams will compete in a play-in tournament for the final spot.
#"I just think we had a group who wanted to come here and prove they were worthy of being here," Suns coach Monty Williams said. "They heard a lot of stuff that was being said."
#The bubble has also represented an historic stretch for the team who is in the midst of its first five-game winning streak since 2014.
#The Suns have scored wins over the Washington Wizards, Dallas Mavericks, the Los Angeles Clippers, and Indiana Pacers before beating Miami.
#The remainder of the seeding schedule for the Suns includes matchups against the Oklahoma City Thunder (August 10), Philadelphia 76ers (August 11), and the Mavericks for a second time (August 13).
#Suns General Manager James Jones discussed the development of Ayton on Arizona Sports' Bickley and Marotta Show.
#"He's bouncing back from play to play. You can see he has some tough stretches and he bounces back. He had some great defensive possessions and he turns that into a great offensive possession. He's building on the, I say, basketball instances. A read or a coverage, he's quarterbacking the backside of the defence," Jones said.
#"We always want more. People always want more because you see his ceiling, you see his potential. If you take the long approach, every day, every game, every practice, getting him to be consistent, it'll take care of itself.
#"He's learning how to pick his spots offensively and defensively. That's something tough for big guys, because we ask the big guys to do the dirty work. We ask them to screen, we ask them to roll, we ask them to collapse the paint. We ask them to sacrifice and not touch the ball."