Six Straight: Ayton And Suns In Win Column Again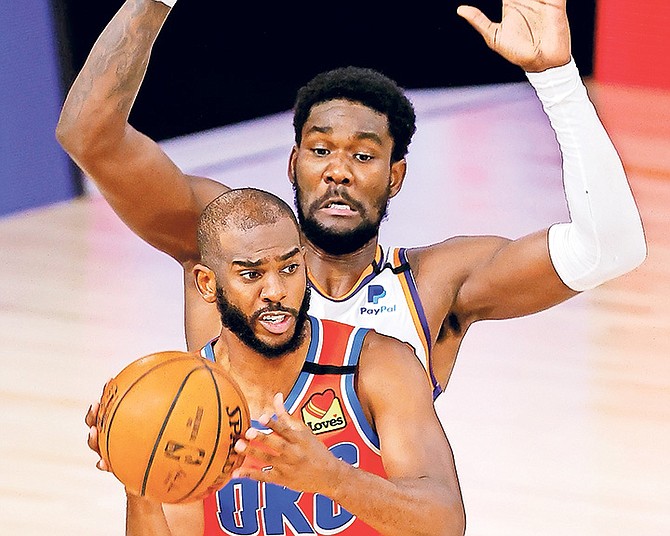 Oklahoma City Thunder's Chris Paul (3) is pressured by Phoenix Suns' Deandre Ayton during the third quarter in Lake Buena Vista, Florida. (Mike Ehrmann/Pool Photo via AP)
#By RENALDO DORSETT
#Tribune Sports Reporter
#rdorsett@tribunemedia.net
#The Phoenix Suns had some nervous moments early on with Deandre Ayton on the sidelines but were able to right the ship and keep their undefeated streak alive in the NBA bubble.
#Ayton came off the bench to finish with 10 points and six rebounds in just 17 minutes to help the Suns improve to 6-0 with a 128-101 win over the Oklahoma City Thunder yesterday at the ESPN Wide World of Sports Complex in Orlando, Florida.
#The second year centre missed his COVID-19 testing window on Sunday but was able to rejoin the team after he returned a negative test yesterday afternoon.
#Suns head coach Monty Williams told reporters Ayton made an "innocent mistake" by missing his testing window.
#"You get confused by it (getting tested every day). You have to give people grace," he said. "He's not the only one who's done that since we've been here."
#Ayton arrived at the arena with the game in progress and watched the entire first quarter from the sidelines, periodically on a stationary bike while the Suns fell behind by as much as 15 points.
#He entered the game in the second quarter, scored four points on a Phoenix run that cut the lead to four (49-45 ) on a Cameron Johnson four-point play.
#Once the Suns returned to full strength with Ayton in the lineup, they dominated the remainder of the game and outscored the shorthanded Thunder 42-27 in the second, 33-17 in the third and 30-20 in the fourth.
#The only undefeated team in Orlando, the Suns have two seeding games left in the regular season.
#They complete a back-to-back today against the Philadelphia 76ers and close out against the Dallas Mavericks for a second time on August 13.
#At 32-39, Phoenix is now one game behind the Memphis Grizzlies (33-38) for the No.8 seed in the Western Conference playoffs. They are also just 0.5 game behind the Portland Trail Blazers (33-39) for the No. 9 spot.
#The remaining schedule for the Grizzlies includes matchups against the Boston Celtics and Milwaukee Bucks while the Trail Blazers will face the Mavericks and Brooklyn Nets.