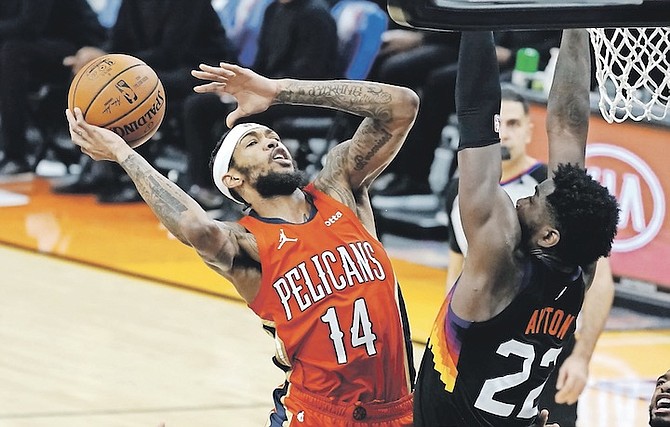 NEW Orleans Pelicans forward Brandon Ingram shoots over Phoenix Suns centre Deandre Ayton.
#DEANDRE Ayton has placed a greater emphasis on the defensive end of the floor as a part of the Phoenix Suns' transition to their new look roster.
#Ayton's offensive numbers are down from previous seasons, but the Suns headed into last night's game with the Atlanta Hawks at 5-2, second in the Western Conference standings.
#The third year centre has averaged 13.7 points, 10.7 rebounds and 1.1 blocks per game.
#"I really don't care about offence. I'm just the anchor for the defence. I let the game come to me. Finding my way around the offence is just being more of a threat, I'm not really tripping about offence," he said following a New Year's eve win over the Utah Jazz.
#"Our defence is winning games. That's what the Suns need to have. When we get punched in the mouth, what do we do? How do we answer back? We already got offence. I've never seen so many shooters on one team. The offence isn't my thing, I'd rather defence more than anything."
#The Suns are currently first in the NBA in opponents-points-per-game (100.6), fifth in defensive rating (104.4), and seventh in opponent field goal percentage.
#"It's us being together and going out there and competing. That's just us being together, going out there and competing. We're just putting our heads down, not believing in the hype, playing hard every night, playing together, making sure our defence is winning games for us and we'll be fine," Ayton said. "We want to compete from the beginning to the end of the game and we will run you into the dirt, it doesn't matter."
#Despite his improvement on the defensive end, Suns head coach Monty Williams wants to see his centre taking advantage of his mismatches on the offensive end as well.
#Ayton had back-to-back 20-point games for the first time this season when he posted 22 points and 11 rebounds on January 1 against the Denver Nuggets and 24 points and eight rebounds against the LA Clippers. "He's starting to dominate in the paint, especially on the switches. It kind of takes him a minute to figure out what teams are doing on the pick and roll but then once he figures that out his steals have been fundamental and offensive rebounding has helped us," Williams said. "We just have to figure it out from the jump and take advantage of his ability to score down there and generate offence for our shooters. That's what DA can do, he can punish switches and generate open threes for our guys."