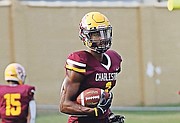 Mike Strachan
#By RENALDO DORSETT
#Tribune Sports Reporter
#rdorsett@tribunemedia.net
#MIKE Strachan's recruitment profile is set to receive a boost with his invitation to the 2021 National Football League Player Association (NFLPA) Collegiate Bowl.
#The 10th edition of the annual all-star game was cancelled in November 2020, but the organisation will host a virtual programme for draft prospects and invitees, January 13-14.
#The game traditionally invites approximately 100 draft prospects either targeted late in the draft or undrafted free agents.
#"Although we will not hold your typical showcase, we are confident that our alternative approach – an innovative, virtual experience intended to educate, equip and empower participants — will still allow us to strategically engage with this year's class of prospects as well as our stakeholders, broadcast partners and NFL club personnel."
#Notable alumni from the bowl include Tarik Cohen (Chicago Bears), Shaquil Griffin (Seattle Seahawks), Kendall Hinton (Denver Broncos), Marquez Valdes- Scantling (Green Bay Packers), Avery Williamson (Pittsburgh Steelers) among others.
#According to its website, the NFLPA Collegiate Bowl showcases players for nearly 200 scouts, player personnel staff, general managers and head coaches from all 32 NFL teams.
#"Unlike other all-star games, the NFLPA Collegiate Bowl not only provides future union members the opportunity to showcase their skills in front of professional coaches and scouts but also equips them with knowledge of the business side of football. As the union for NFL players, we believe our messaging, guidance and holistic approach will best prepare participants for their future professional football careers. We also take pride in providing the premier platform for collegiate talent from major Division-I schools as well as smaller universities and HBCUs."
#Strachan, the Grand Bahama native and former University of Charleston Cougars wide receiver, declared for the draft in December.
#The 86th edition of the draft takes place April 29 – May 1, 2021.
#Strachan signed with DEC Management in November and also recently joined The Society brand and marketing agency.
#The 6'5" 225-pound two sport star (athletics), was recently listed among Yahoo! Sports' top "small school" prospects for the 2021 NFL draft and a preseason All-American.
#In his junior season, Strachan rewrote the record books and boosted his stock for pro scouts.
#He was named an NCAA Division II Second Team All-American by the American Football Coaches Association and to the 2019 Don Hansen NCAA Division II All-America team.
#He finished with 78 receptions for 1,319 yards and 19 touchdowns in his final season with the Golden Eagles.
#He finished his career with a share of the all-time Charleston touchdown record of 27. He set new school records, led the Mountain East Conference in each category and was second in all of DII in both receiving yards and touchdowns. He currently holds school records in receiving yards, breaking his own previous record of 1,007 set in 2018. His 19 receiving touchdowns broke the 70-year record of 13 held by Charlie Hubbard in 1950.
#His 78 receptions broke the record of 60 set by Terrance Spencer in 2006. He also achieved Division II Top-10 marks for the 2019 season in receiving touchdowns (second), receiving yards (sixth), receptions (ninth), and receiving yards per game (fifth).