Ayton, Suns Look To End Series Tonight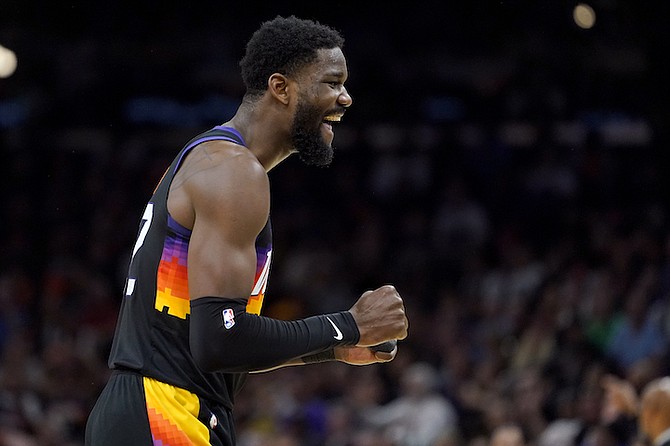 PHOENIX Suns centre Deandre Ayton reacts to making a basket against the New Orleans Pelicans during the first half of Game 5 of their NBA basketball first-round playoff series on Tuesday, night in Phoenix. (AP Photo/Matt York)
As of Thursday, April 28, 2022
#By RENALDO DORSETT
#Tribune Sports Reporter
#rdorsett@tribunemedia.net
#Deandre Ayton said his Phoenix Suns refocused in one particular area to take a 3-2 lead in their best-of-seven first round series against the New Orleans Pelicans.
#Ayton finished with 19 points and nine rebounds in a 112-97 Game five victory Tuesday night at the Footprint Center in Phoenix, Arizona.
#"Defence for sure," Ayton said. "Accepting the physicality, not worried about calls that's not going our way, not letting their offence dictate our defence and letting the defence create our offence, that was the main motto out there. We played together and it showed."
#Ayton scored 13 points in the first half as the Suns built an early 17-point second quarter advantage. They led 59-46 at the half. The Suns maintained an 89-78 lead headed into the fourth and the Pelicans would only pull within seven in the final period.
#Phoenix will have an opportunity to close out the series tonight in game six at the Smoothie King Center in New Orleans, Louisiana at 7:30pm local time.
#It was the third straight game the Suns played without injured All-Star guard Devin Booker, but Ayton credited Mikal Bridges for being the game-five catalyst.
#Bridges finished with 31 points and played 47 of 48 minutes.
#"Thats what 'Kal do, that's Iron Man," Ayton said. "The man take care of his body and he approach the game the same way everyday. He don't change up nothing. He's a true student of the game and it's contagious because we know the type of task he has every game. We need him through every possession, every game and you just can't take stuff like that for granted having a player like him."
#Bridges, a top three finalist for the Defensive Player of the Year Award, limited the Pelicans' Brandon Ingram to 22 points on 7-19 shooting from the field.
#"It made my life easy. Game four, them dudes was comfortable in their pick and rolls and tonight Mikal was in their way," Ayton said of Bridges' defensive effort. "All I had to do was mirror them to make sure they're not getting too deep or Valanciunas wasn't getting behind me on those pick and rolls but Kal made everybody's life easy putting pressure on the ball and making those dudes get late into their offence. That's what created our aggressiveness and getting to our offence in transition."
#Ayton added that another new addition to the Suns' game plan was playing him at the power forward spot alongside veteran centre JaVale McGee. "It felt good, having two bigs out there and me popping. It felt good not to roll a little bit but just giving different looks in the game, rebounding as well so we can close out possessions," Ayton said.
#"Monty introduced it in shootaround and I couldnt wait to take advantage of that. Felt like college. Playing that four position, switching out on them guards with a big dude who can slide his feet a little bit. I love that, I love defending…try to be more like Mikal."
#Ayton is averaging 20.2 points, 10.4 rebounds and 1.2 blocks per game with one double double through five games of the series.
#"We were running [in game five], we were really in that paint," he said. "That's what got us momentum, got the growd going, what made it feel like a regular game in a way. Just attacking the paint, getting paint touches and finding guys."