Two Bahamian Players Star In Mlb Game: Marlins' Chisholm, Nats' Fox
As of Thursday, April 28, 2022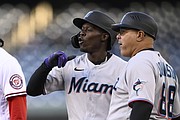 MARLINS' Jazz Chisholm Jr, left, gestures next to first base coach Keith Johnson (88) after he singled during the first inning of a baseball game against the Washington Nationals last night in Washington. (AP Photo/Nick Wass)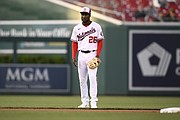 NATIONALS shortstop Lucius Fox stands on the field during the first inning against the Miami Marlins last night in Washington. (AP Photo/Nick Wass)
#By RENALDO DORSETT
#Tribune Sports Reporter
#rdorsett@tribunemedia.net
#THEY were members of the same International Signing Class in 2015 and now seven years later, Jazz Chisholm Jr and Lucius Fox made Bahamian baseball history once again at the major league level.
#The 24-year-old duo became the first pair of Bahamas-born players to appear in the same Major League Baseball game since 1961 when Fox's Washington Nationals hosted Chisholm's Marlins last night at Nationals Park in Washington DC.
#Chisholm had the better individual night and his Marlins won the second game of the series 2-1 last night. He went 2-3 at the plate and scored one run on the night while Fox went 0-4 with three groundouts.
#Chisholm singled to right field in his first at bat and in the seventh inning, singled again to centre on a ground ball that just got by the outstretched glove of Fox. Fox grounded out to Chisholm in his first two at bats. With the Marlins clinging to a 2-1 lead in the bottom of the ninth inning and Victor Robles on first, Fox came up to the plate representing the go-ahead run, but flied out to left to end the game.
#Fox made his MLB debut and his first career start back on August 10, going 0 for 3 with a run-scoring bunt. He is still in search of his first major league hit.
#"There's been a lot of guys who have been there, and we told him that, and we just say, hey, keep battling," Davey Martinez told reporters after a weekend matchup against the Giants.
#According to the Elias Sports Bureau, the only other pair of Bahamians to play in the same game were Andre Rodgers and Tony Curry, who faced each other six times during the 1960 and 1961 seasons.
#Game three in the series is set for today at 1:05pm.
#Both players signed out of the Maximum Development Academy in 2015 – Chisholm with the Arizona Diamondbacks and Fox with the San Francisco Giants.
#Chisholm spent just over three seasons in the Diamondbacks organisation before he was traded to the Marlins for Zac Gallen.
#Chisholm, who was called up late in the COVID-19 shortened 2020 season, was an opening day starter this season and quickly became a fan favorite for his production and exuberant personality both on and off the field.
#He was named to MLB Pipeline's All-Rookie Second team.
#Chisholm appeared in 124 games this season (91 at second base, 37 at shortstop) with 119 starts. He hit .248 with a .728 OPS, slugging .425 with 115 hits, 183 total bases, 70 runs scored, 20 doubles, four triples, 18 home runs, 53 RBI and a team leading 23 stolen bases. After just over a year with the Giants organisation, Fox was traded along with to the Tampa Bay Rays for pitcher Matt Moore and third baseman Matt Duffy.
#After spending just over two seasons with the Royals organisation, Fox was placed on waivers following his 2021 season with the Storm Chasers.
#In a busy offseason, he was claimed off waivers by the Orioles on November 19 before he was released shortly thereafter. Fox was eventually claimed by the Nationals on November 30.