Bahamas Softball Legends Join Global Hall Of Fame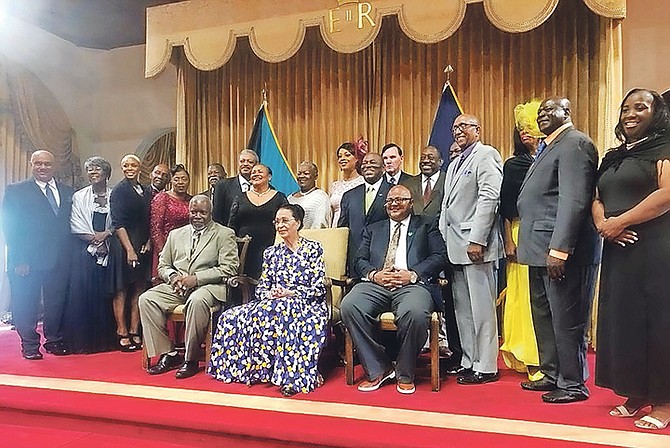 The ceremony at Government House.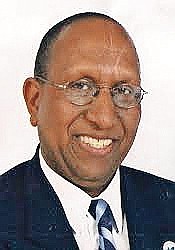 Godfrey Burnside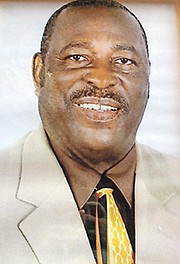 Burket Dorsett
#By RENALDO DORSETT
#Tribune Sports Reporter
#rdorsett@tribunemedia.net
#Two Bahamian softball icons were added to the list of World Baseball Softball Confederation – Softball Hall of Fame inductees and were also among a group of 21 inducted into the local Bahamas Softball Federation Hall of Fame.
#Burket Dorsett (administrator) and Godfrey Burnside (coach) headlined the list of honourees inducted at an official ceremony on Friday, April 5, at Government House.
#The pair were elected along with 12 others from around the world at the 2017 edition of the WBSC Congress, hosted last October in Botswana, Africa.
#Their selection brings the total number of Bahamian inductees in the organisation to 18.
#Tommy Velazquez, WBSC Softball Division Chairman, congratulated the honouress and Bahamian softball for the achievement.
#"I'm extremely delighted to join softball in The Bahamas on this historic day. Two of the most decorated personalities are joining the most important group in softball history: the Hall of Fame. Congratulations to them and the entire softball Bahamas community," he said.
#Dorsett has been an administrator for over three decades and currently serves as president of the English Caribbean Amateur Softball Confederation. His list of accolades includes president of the Bahamas Government Departmental Softball Association, New Providence Softball Association, and the Bahamas Softball Federation.
#Burnside, the immediate past president of the New Providence Softball Association, has served as an BSF executive and is a long time manager/coach of various men's national softball teams at several levels
#He was a member of the coaching staff of The Bahamas' historic appearance at the 1981 World Games when the women finished with a bronze medal.
#As of the most recent elections, there are now 226 members in the World Softball Hall of Fame, representing 35 countries. The Softball Hall of Fame was established in 1981 and inducts new members every two years.
#In 1987, Leon Knowles was the first Bahamian elected to the Hall of Fame. He was followed by Churchill Knowles Tener in 1991, Neko Grant in 1997 and Arthur Thompson in 2001. The Bahamas saw multiple inductees for the first time in 2003 with Douggy Smith, Sidney Fernander and Greg Christie. Candice GeGregory Culmer, Richard Johnson, Austin Knowles and Godfrey Pinder were elected in 2007 followed by Naomi Ellis in 2009. Ali Culmer and Linda Ford were elected in 2011 followed by Rommel Knowles and Oria Wood-Knowles in 2013.
#Headquartered in Lausanne, Switzerland the WBSC is the world governing body for baseball and softball. WBSC has 208 National Federation and Associate Members in 135 countries and territories across Asia, Africa, Americas, Europe and Oceania, which represent a united baseball/softball sports movement that encompasses over 65 million athletes and attracts approximately 150 million fans to stadiums worldwide annually.
#Dorsett and Burnside also joined the 2018 Class of the local Bahamas Softball Federation.
#They were joined by inductees all throughout the Bahamas including Licina Ingraham (Abaco), Percival Thomas Albury (Abaco), Billy Evans (Andros), Nicole Evans-Holder (Andros), Sherry Beney (Eleuthera), Edmond Bethel (Eleuthera), Donald DeGrerory (Grand Bahama), Elizabeth Johnson (Grand Bahama), Bernie McPhee-Major (New Providence), Charles Moss (New Providence), Dorothy Marshall (New Providence), Stephen Beneby (New Providence), Anthony Pearce (BSF), Brazilla Kelly (BSF), Dereck Christie (BSF), Daphne McKinney (BSF), Senator Jennifer Isaac-Dotson (BSF) and Telford Roberts (BSF).
#Romell Knowles is the current President of the Bahamas Olympic Committee, Past President of the BSF and also an ISF Hall of Famer
#"The privilege of bearing witness to more Bahamians joining the halls of the Bahamas Softball Federation/World Baseball Softball Confederation is yet another victorious milestone for the Bahamas Softball Federation. Without prejudice, no other sport in our Commonwealth can boast of such an accomplishment," he said,
#"Further, I count it all joy to witness more distinguished softball personalities being inducted into the BSF's halls. Yours is a very personal one for me as it was under my administration, we dare to dream of recognising with distinction those within the community of softball for their sacrifices and dedication in the promotion and development of our beloved sport softball."