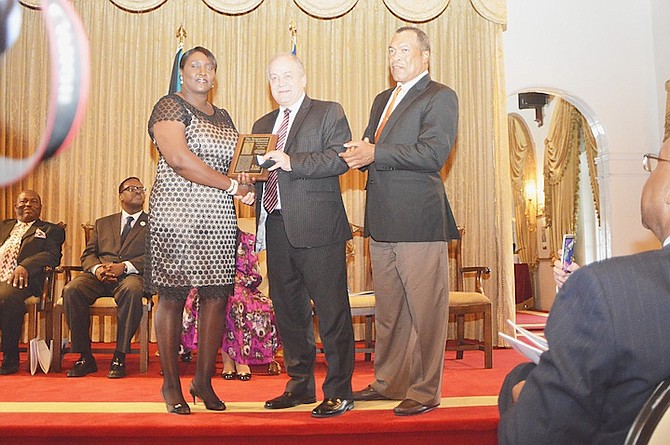 HALL OF FAME: Shown (l-r) are Oria Wood-Knowles, Dale McMann, president of the ISF and vice president of the World Baseball/Softball Confederation and Bahamas Olympic Committee president Wellington Miller. Photos by Kevin Major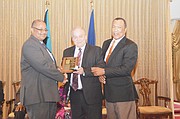 FITTING HONOUR: Shown (l-r) are Rommel Knowles, Dale McMann and Wellington Miller.
#By BRENT STUBBS
#Senior Sports Reporter
#bstubbs@tribunemedia.net
#AN emotional Oria Wood-Knowles, who holds the distinction of being the first Bahamian female manager, and an overjoyed Rommel 'Fish' Knowles, who had a tremendous transformation from the playing field to the administration office, became the 15th and 16th Bahamians inducted into the International Softball Federation's Hall of Fame.
#The duo were enshrined last night at Government House by Dale McMann, the president of the ISF and vice president of the World Baseball/Softball Confederation, just before Bahamas Softball Federation president Burkett Dorsett and Governor General Dame Marguerite Pindling inducted the Class of 2015 into the BSF's Hall of Fame.
#Dorsett, who also serves as president of the English Caribbean Amateur Confederation (ECASC), which is hosting an international men's softball tournament that starts today at the Baillou Hills Sporting Complex, said it's a proud moment for the Bahamas as the latest honourees help to push the country in the top five in the entire world with its distinction of honourees.
#"Tonight, a grateful nation, along with the International Softball Federation, pauses to acknowledge two of the most decorated softball icons who have successfully and with pride, carried the Bahamas around the world, from Nassau to China, USA, Cuba, Colombia, Argentina, Venezuela, El Salvador, Guadeloupe, Puerto Rico, among other countries over the past 30 years," Dorsett said.
#Bahamas Olympic Committee president Wellington Miller said the BSF has done well over the years in gaining international recognition in softball for its athletes and a lot of that recognition had its roots in Eleuthera, known as the "mother island" of softball in the Bahamas.
#"Tonight is another night that we who are involved in sports in the Bahamas on the whole can be proud of Bahmians accomplishments in sports internationally," Miller said. "Tonight, we have two persons who have received such worthy international recognition to be placed in the International Softball Federation Hall of Fame."
#Also present for the event was Minister of Youth, Sports and Culture Dr Daniel Johnson, who hailed the two honourees as exemplified leaders in the sport and sports in general as they have made and continue to make their contribution to the development of sports in the Ministry of Sports (Wood-Knowles, a senior sports officer) and in the BOC (Knowles as the secretary general).
#Reliving the contributions of both Wood-Knowles and Knowles, McMann said they have both made some valuable contributions to the sport, but have touched the lives of others as they positively impacted the sport of softball in the Bahamas on the local and international scene.
#"Oria Wood-Knowles' résumé speaks for itself. A 34-year career during which she represented the Bahamas in four World Championships and two World Games," he said. "She was the first head coach of the Bahamas Softball Federation's women's national team and developed and operated many youth tournaments later in her career."
#As for Knowles, McMann said he has known him personally for many years.
#"As an accomplished player and coach, Rommel was at his best as an administrator in our sport. He is a founder of the ECASC, a former board member pf the ISF, the youngest president of the Bahamas Softball Federation and the secretary general of the Bahamas Olympic Committee," he said.
#"Hard-working, dedicated and passionate about growing and developing our great game, Rommell is a welcome addition to our Hall of Fame."
#McMann said it's the personal accomplishment of both Wood-Knowles and Knowles that has made them more than qualified for the ISF Hall of Fame before he presented them with their plaque and rings to signify their achievement, joining the list of Bahamians that include the late Leon 'Apache' Knowles, Minister Neko Grant, Sidney 'Baylor' Fernander, Candice Culmer-Clarke, Austin 'King Snake' Knowles, the late Arthur 'Old Art' Thompson, Master of Ceremonies Churchill Tener-Knowles, Douglas 'Douggie' Smith, Richard 'the Lion-Heart Johnson, Naomi Ellis, Alfred 'Ail' Culmer, Linda Ford, Greg Christie and Godfrey 'Gully' Pinder.
#Both Wood-Knowles and Knowles played on the infield.
#An emotional Wood-Knowles
#After receiving her accolade, Wood-Knowles said it was a nice, short ceremony, but it was one that she had mixed reactions.
#"I wished this had been done a little while back because right now I'm missing my two men," said Wood-Knowles, who lost both her father, iconic baseball administrator Jim Wood and her husband 'Colin' Troppy' Knowles, both in the span of two months last year.
#"It's really hard. I actually had this ring sized for my Troppy, but he's not here, so I guess I have to get it sized back down. It's a really great honour. I really appreciate it and to see all these persons who came out to share in the honour. I just thank God for my time right here."
#Wood-Knowles, who began playing Little League baseball with her brothers, was probably one of the most versatile female sporting personalities in the Bahamas. She has participated in just about every sport and excelled on a national team in every one. However, this is her first major international induction and she said she will certainly enjoy it.
#An overjoyed Knowles
#When asked how he felt, Knowles said he doesn't know yet, but during his acceptance speech, he said he felt he should have been inducted as a player and not an administrator because he thinks he may have done more on the field rather than later in his career when he went into the front office.
#"It hasn't really sunk in yet," he said. "But anything you have an opportunity to represent your country, when I travelled, it was always Rommell Knowles, Bahamas Softball Federation," he said. "I did my best to represent my country and by extension, I am very happy and pleased to be inducted."
#It was even more special for Knowles to go in with Wood-Knowles, whom he said he appointed as the manager of the women's national team.
#BSF Inductees
#It was a list of "Who's Who" when it came down to the BSF's induction of players, administrators and sponsors.
#The Class of 2015 includes Anthony 'Bubba' Douglas, Byron 'BJ' Johnson, Carolyn Ferguson, Cherry Elliott, Cornelius 'Money' Williams, Courtney Chandler, Darrell Weir, Ernestine Butler, Garth Rolle, Gladstone Sands, Hansel Collie, Hasting 'the Hurler' Campbell, Hawette Ingraham, Hyacinth Farrington, James Smith, John Sands, Keva Turnquest (posthumously), Larie Newton, Leona Roache, Leroy Thompson, Mark Gates, Michael Laing, Nerissa Seymour, Paul Demeritte, Paula Johnson, Penal Wilson, Richard Morley, Spurgeon Johnson and Vernie Curry as players and administrators.
#The sponsors were Bahamas Wholesale Agency, Bahamas Telecommunications Company Limited and Five Wheels of Grand Bahama.
#For Farrington, it's only her second trip to Government House and this one will be the most memorable.
#"Besides being blessed, it's truly an honour to be a part of the BSF inductees. It's been a long time, but good things come to those that wait," Farrington said. "I'm always one who is adamant about giving people their flowers while they are alive and so I'm truly thankful and honoured to be a part of this great group of ball players."
#Coming all the way from Exuma was Garth Rolle, who is still young compared to some of the honourees. "I feel nice about it because they are doing it while I'm alive and it's a pleasant thing for them to do," the pitcher said. "This is an outstanding class. Looking at the older folks who are in this class, I'm very honoured to be included with them."
#And Butler, a former player and administrator from Eleuthera, said he was surprised that he was chosen. "Despite the fact that I put in a lot of years into softball, first as a ball player and then in administration, I really appreciate it," he said. "The class of 2015, there are some outstanding individuals who are not only softball players but administrators, so I'm proud to be included."