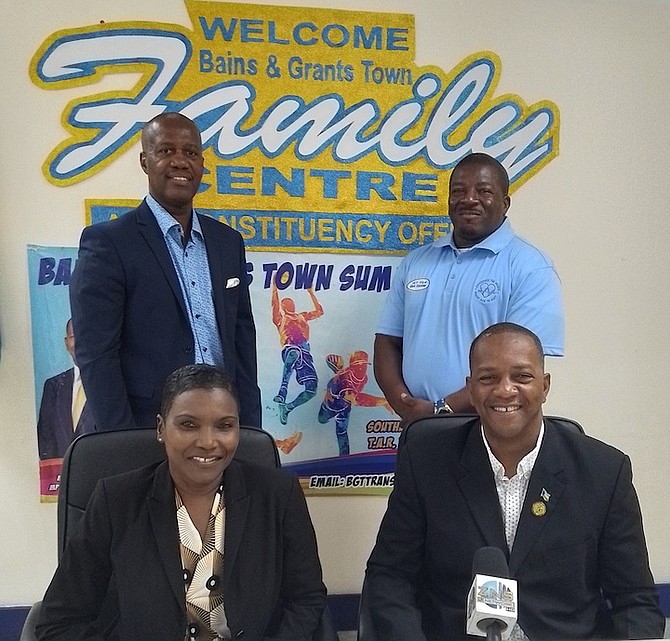 Golden Girl Pauline Davis and MP Wayde Watson seated in front of the organisers Sean Bastian and Mark Knowles.
#By BRENT STUBBS
#Senior Sports Reporter
#bstubbs@tribunemedia.net
#FOLLOWING a successful trial run last year, Member of Parliament Wayde Watson and his committee are looking forward to the hosting of their second annual Bains & Grants Town Summer Games.
#Pegged for July 24 to August 12, the games will feature competition in basketball, softball and track and field with three age group categories – 18-and-under, 16-and-under and 12-and-under. There will also be competition in the open division.
#Co-ed softball for under-12 and open will be contested during the first week at the Archdeacon William Thompson Softball Park at the Southern Recreation Grounds, according to Sean Bastian.
#The next two weeks will be basketball for the under-12, 13-16 and 17-and-above open groups at the Southern Recreation Grounds with track and field to close out the games at the original Thomas A Robinson National Stadium.
#"Last year was the first time that we did it and we were surprised by how successful it was," Watson said. "So we are hoping that there will be a lot more excitement for this year's event.
#"Every night, we hope to get as much of our constituents come out and cheer on the young people in their community. We don't charge to come in because we want to do this for the people of Bains & Grants Town."
#This year's event is being endorsed by "Golden Girl" Pauline Davis, a native of Fleming Street, who talked about how God has blessed her to travel around the world competing for the Bahamas as a track and field athlete.
#"You are blessed and God has a purpose for your life," Davis the old the young residents of the constituency. "Use every tool at your disposal to become the best that you can become.
#"You may not become a world champion like me or a doctor or lawyer, but we can encourage the other young people who look up to you."
#Davis said as a barefoot girl from Bains and Grants Town who went on to earn a four-year athletic scholarship, no way in her wildest dream had she even envisioned being the first Bahamian or Caribbean athlete to win an Olympic gold medal in track and field.
#She said if she can do it, there are others who have the ability to do so as well. She said she will be in attendance at the games to encourage and motivate the young rising athletes out of the constituency.
#Watson, a former resident of Bains & Grants Town before he moved to Grand Bahama where he played basketball and began coaching the sport, commended Davis on coming forth and lending her support to the games.
#As they prepare for the games, Knowles revealed that the constituency will be split up into five zones, which will have a manager and coaches, who will be responsible for assembling their teams.
#Those zones are the dillies, star apples, almonds, Guinups and sea grapes. They represent different areas of the Bains & Grants Town constituency.
#"They will walk through the community and tell the residents what the summer games are all about," Knowles said. "They will then be select their teams.
#"Last year was a trial run. It was successful. Some of the things that we learn from was the public relations wasn't that strong. We are going to hit the ground earlier and we will be making announcements and giving out flyers."
#Knowles said although he's one of the organizers, he will be working hard at trying to get his team ready to compete.
#With the sixth Bahamas Games being a part of the 50th celebrations of the nation's Golden Jubilee, Watson said they intend to use it a steppingstone for the hype for their games.
#"The Bahamas is a small nation and with the games starting on July 25, we want to make certain that the games are just as successful as the Bahamas Games," Watson said. "We hope to have our Bains & Grants Town Homecoming as a part of the celebrations to get more people involved."
#A number of sponsors have decided to come on board and assist the committee in helping to secure the uniforms that the young people will be wearing as their represent their respective zones.