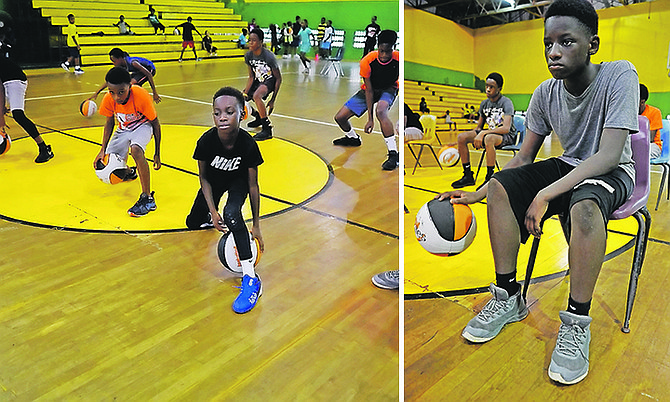 Extreme Athletic Basketball Club, in its 10th consecutive year, has moved from Temple Christian Academy auditorium to the DW Davis gymnasium. Photos by Terrel W Carey Sr/Tribune Staff
As of Tuesday, August 13, 2019
#By BRENT STUBBS
#Senior Sports Reporter
#bstubbs@tribunemedia.net
#For the 10th consecutive year, coach Nekeno Demeritte has hosted the Extreme Athletic Basketball Club. This year, however, he has had to move the venue from Temple Christian Academy auditorium to the DW Davis gymnasium.
#Now into its third and final week, Demeritte said yesterday that it was originally designed for the students and players of his Temple Christian Academy Suns basketball team, but they've had requests from players from other schools and they have accommodated them.
#"This is the first year where the numbers were not as we normally would have, but we thank God for the average of about 45 kids a week who have been attending," Demeritte said.
#During the camp, Demeritte and his instructors took the campers through a dribbling exercise in week one.
#Week two was geared to form shooting, passing and defence. This final week, the campers will get to put it all together in a fun environment.
#Among the instructors assisting Demeritte are Candice Smith, a physical education teacher from Mangrove Cay, Andros, Kyle Alcine, Ryan Roberts and Maikail Strachan.
#Having been a part of the camp since its inception, Smith said she enjoys coming to New Providence every year to assist Demeritte.
#"I think it's good to teach the younger ones and even some of the older ones, the fundamentals of basketball," Smith stated. "It's been good. I think every year it gets better. So it's good that we can get them at such an early age."
#And when some of her students come from Andros to spend their summer vacation in New Providence, Smith said she makes it a point to encourage them to attend the camp to further develop their skills.
#"This is something that is needed and I hope that we can get it into our Family Islands," stressed Smith, who has been on the island for the past five years. "We have a lot of talent on those islands that need exposure too."
#Azarria Lashley, an 11-year-old, said she has been a part of the camp since she was in grade one at Temple Christian and she loves it.
#"It feels amazing," said Lashley, who will be entering grade six at Temple Christian and plays the guard position for the Suns girls' team. "This helps me to get better so that we can beat the other teams when we play them."
#As for her coach, Lashley said Demeritte is "okay."
#Samuel Aquino Jr, also 11, is making his first appearance at the camp. He will also be entering Temple Christian Academy for the first time this year in grade seven, so he wanted to get acclimated to the programme.
#"My dad sent me here so that I can improve my game," Aquino Jr said. "I'm doing okay. My dad wants me to play on the basketball team, so this is a good opportunity for me to be here."
#The camp will wrap up on Friday.