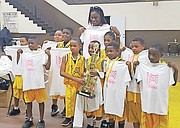 Members of Temple Christian Suns with their awards won in the mini division.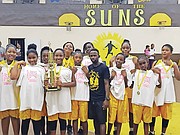 The Temple Christian Suns and coach Keno Demeritte receive their primary girls awards.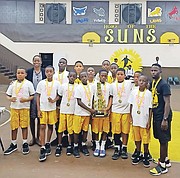 Coach Keno Demeritte (right) with his Temple Christian Suns' championship primary boys team.
#THE Temple Christian Academy's 10th annual pre-season basketball tournament ended last week with the Suns completing a clean sweep of three titles on their home court at the Temple Christian Auditorium.
#Temple Christian, coached by Nekeno 'Keno' Demeritte, captured the mini divisional title with a 6-4 win over the Queen's College Comets as Ralph Burrows was named the most valuable player.
#In the primary girls' division, the Suns knocked off Freedom Baptist 10-0 as Azzaria Marshall earned the MVP honours and in the primary boys, Tyler Fraiser got the MVP as they nipped the Jordan Prince Williams Falcons 18-17.
#This year's tournament, according to Demeritte, was one of the most competitive with 12 teams entered in the primary boys, eight in the primary girls and four in the mini divisions.
#Teams entered were from Queen's College, Kingsway Academy, St Francis & St Joseph, Teleos, Genesis Academy, Freedom Baptist Academy and host Temple Christian.
#"The tournament was very good. The games were really exciting," Demeritte stated.
#In the mini championship game, both teams traded baskets for the lead until Temple Christian secured the game-winning shot.
#In the primary girls, the Suns shined from start to finish as they shut out Freedom Baptist Academy.
#And in the primary boys, the Falcons led 8-2 at the half, but the Suns rallied in the second half to clinch the title.
#"It was a very competitive tournament this year and we are looking forward to next year," Demeritte said.
#"We hope that we can come back next year and repeat as champions."