As of Monday, December 5, 2022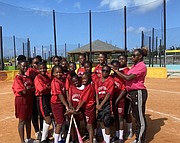 GARVIN Tynes Primary School girls won the softball title as the New Providence Primary Schools Sports Association completed its week-long dual competition at Baillou Hills Sporting Complex.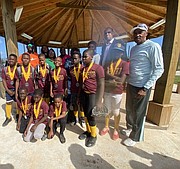 SADIE Curtis boys emerged as the boys' baseball champions as the NPPSSA completed its week-long dual competition at the Baillou Hills Sporting Complex.
#By BRENT STUBBS
#Senior Sports Reporter
#bstubbs@tribunemedia.net
#WHILE Garvin Tynes outslugged Palmdale for the girls' softball title, Sadie Curtis blanked TG Glover to emerge as the boys' baseball champions as the New Providence Primary Schools Sports Association completed its week-long dual competition at the Baillou Hills Sporting Complex.
#The championships took place on Friday as sponsor Lillian McDonald and Ministry of Education officers Evon Wisdom and Clara Storr joined NPPSSA president Latoya Bain-Sturrup in presenting the hardware to the recipients.
#Girls softball
#Garvin Tynes 9, Palmdale 5: Time only allowed them to complete two innings, but it was all that Garvin Tynes needed in the one hour to pull off the exciting championship feat. "I am very pleased. They did a phenomenal job," said Crystal Eneas, who coached Garvin Tynes along with Janice Williams.
#"We went back to practice and we cleaned up the mistakes we made in our previous games and now we came out as champions."
#Eneas said it was expected. "We had no doubts that we would pull it off," she added. "Our hitting improved and our fielding improved. We're just happy to be able to take the team trophy back to Garvin Tynes."
#They did it on the strength of their towering pitcher Zamira Simms and diminutive first sacker D'Antia Rose. "I feel we could have played a little better, but we did very well for the time that we had to practice," said Simms, an 11-year-old sixth grader at Garvin Tynes. "I know I could have done better, but we still got the win."
#Rose, an eight-year-old fourth grader who played first base, noted she could have done better, but she felt good that her team won. "I feel good," she said. "I think we played our best."
#Ashley Oembler, coach of Palmdale, said it was a good game for them to win.
#"Congratulations to Garvin Tynes. They are an excellent team," Oembler said. "Our Palmdale girls did an excellent job. Me and Nikita Bridgewater are proud of them. They showed that they were confident playing in this game. They played through the end. We wanted the championship, but we didn't get it."
#Bridgewater said despite the loss, she can concur with Oembler, that they did their best.
#"For the short time we had to work with them, I think they did very well," she added.
#Their battery mate of pitcher Kimeyah Coakley and catcher Azariah Hinds came through at the last minute after Palmdale's original duo couldn't make it out. Eva Hilton finished in third place.
#Boys' baseball
#Sadie Curtis 6, TG Glover 0: Behind the three-headed pitching monster, Sadie Curtis proved to be no match for TG Glover, holding their opponents scoreless in the complete five innings played.
#As the champions of the last championship played in 2020 before the pandemic struck, Sadie Curtis' coach Francesca McBride said they just wanted to win another title.
#"I knew they had it in them. Some of them play for Freedom Farm and JBLN, so I knew we had good talent," McBride said. "We had good pitching and good catching, but I was a little concerned about our hitting. They surprised me with their performances. We did a great job."
#Rhamelo Bethel, Elisha Sands and Josiah Filterman combined to pitch the shutout.
#Bethel, who got the ball rolling before he moved to catching, said they worked so hard to accomplish their feat and they had a lot of fun doing it, especially in pulling off the shut out.
#Bethel actually made a game-ending play at the plate that prevented TG Glover from scoring their only run. "I couldn't let him score," said Bethel, a 10-year-old sixth grader at Sadie Curtis..
#"We played so well, so I couldn't let them score."
#Brad Wood Jr, who along with William McFall coached TG Glover, said he felt they played as best as they could. "We only had about a week and-a-half to prepare," Wood Jr said.
#"But we had one or two veteran players and they tried to keep us together."
#Eldon Bullard was the star for TG Glover, pitching all of their games during the regular season to get them into the final.
#Unfortunately in the final, they were no match for Sadie Curtis.
#Eva Hilton picked up third place.
#McDonald, the proprietor of Mackado Bus Service, said she was so impressed with what she saw that she will always be willing to assist and she advised the NPPSSA that they can count on her to help out. Wisdom, the retiring sports officer at the Ministry of Education, encouraged the players to respect "the people who came before you, respect mommy and daddy" and persons like "Mrs McDonald and Mrs Sturrup" because they are the ones who are there to assist the players in achieving their goals.
#"When you don't pay homage to them, this is all at naught," Wisdom said.
#"I want all of you as players to thank your coaches and thank your mother and father and let them know how much you appreciate them."
#Storr, the education officer at the Ministry of Education, took the time out to congratulate all of the teams and she encouraged the players to "celebrate" their achievements,
#"Do not let it stop here. This is just the beginning," Storr told the players.
#"I know that the Bahamas had a legacy relating to baseball and softball. You are the players that will continue to carry the legacy.
#"Even though you are children in primary schools, the sky's the limit.
#"Let nothing stop you. We might be a small island nation, but everyone knows where we are. So you are the flag carrier to the world."
#The NPPSSA, which started the year with soccer, will move into its basketball competition in January.
http://www.tribune242.com/news/2022/dec/05/baseball-and-softball-champions-crowned/?news