As of Wednesday, January 4, 2023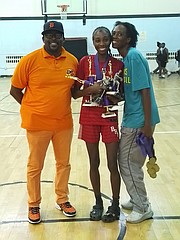 COACH ANASTACIA MOULTRIE, far right, gives her daughter Antonicia Moultrie a big kiss as coach Kevin Johnson looks on.
#By BRENT STUBBS
#Senior Sports Reporter
#bstubbs@tribunemedia.net
#VERY few parents get the opportunity to watch their children follow in their footsteps and coach them at the same time in the process. Anastacia Sands-Moultrie is one of these individuals as her daughter Antonicia Moultrie is picking up where her mother left off.
#The two are currently holding court for the St Augustine's College Big Red Machine.
#On Friday at the CI Gibson Gymnasium, Sands-Moultrie, one of the country's most versatile players, coached the Big Red Machine as Moultrie paved the way as SAC rolled past the CV Bethel Stingrays 46-41 to cart off the Providence Basketball Club's 2022 Holiday Classic senior girls' championship title. It was the first time that the senior girls and junior boys division was added to the tournament, which normally features the senior boys' division.
#In rallying from a 19-17 deficit at the half, Moultrie took over the show for the Big Red Machine, leading on both ends of the court with 13 of her game high 27 points.
#At the end of the tournament, not only did Moultrie, the 5-foot, 9-inch guard/forward earn the game's most valuable player award, but she was also awarded the most rebounds, most blocks, defensive player, All- Tournament Team and the tournament's MVP honours.
#"I got all of my team-mates involved and they relied on me to carry them," Moultrie said. "So it was a good feeling to know that I was able to accomplish what I did with the support of my team-mate and our coach."
#Against the Stingrays, who countered with a big line-up from the McCoy sisters, Terrell and Danielle, and a potent offensive attack led by Trinity Bodie and Geraniqua Bethel, Moultrie said with players such as Dior-Rae Scott, Arianna Gomez and Teanna Gibson, she knew they had what it took to win it all.
#"I told them we had to dig down deep, we pushed and we have to do what we have to do to win," Moultrie said. "We did that and we got the job done."
#In addition to God, Moultrie said she owes a great deal of her success to her mother and coach, Sands-Moultrie.
#"She's always on me and she always wants the best out of me, so it ain't that bad," Moultrie said. "There's a lot of pressure, but I try to live up to her expectations."
#And one of those expectations, according to Sands-Moultrie, is to see her daughter have success beyond what she did.
#"I told her she's a senior in grade 12, so she has to lead by example and take control of the game," Moultrie said. "I know she said she was tired, but I told her I couldn't take her out of the game. She has to fight until the end."
#Those words of encouragement enabled Moultrie to produce one of the most outstanding performances in the tournament, including from the boys' side.
#It's the same type of hard nose effort that Sands- Moultrie was known by when she played for the HO Nash Lions under coach Patricia 'Pattie' Johnson before she left to attend St Augustine's College in Raleigh, North Carolina, from 1994- 2000. Looking at her mother's accomplishments, Moultrie, who turned 17 on November 22, said it's not a hard act to follow.
#"She went on to college, her ball and she got her degree," Moultrie said. "So I hope to do the same thing."
#With aspirations to become a pilot, Moultrie said she hopes to secure a scholarship to pursue a degree in aviation and play basketball, either at Middle Tennessee State University, Ohio State, Florida Memorial University, University of North Dakota or Western Michigan, but no decision has been made as yet.
http://www.tribune242.com/news/2023/jan/04/basketball-standout-antonicia-moultrie-following-h/?news