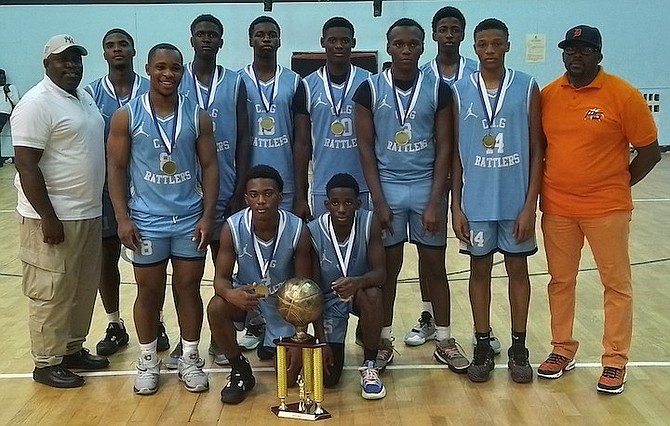 WE ARE THE CHAMPIONS: The CI Gibson Rattlers senior boys with their championship trophy and medals.
As of Tuesday, January 3, 2023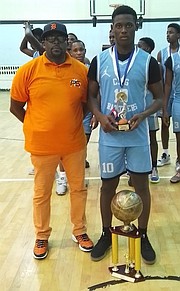 COACH Kevin Johnson shares a moment with MVP Gerrard Rolle.
#By BRENT STUBBS
#Senior Sports Reporter
#bstubbs@tribunemedia.net
#It went right down to the wire as the CI Gibson Rattlers prevailed with the senior boys' title over the Jordan Prince Williams Falcons in a nail-biting championship game that brought the curtain down on the Providence Storm Basketball Club's 2022 Holiday Classic at the CI Gibson Gymnasium.
#The Rattlers, who led 33-25 at the half, withstood every challenge that the Falcons mounted as most valuable player Gerrard Rolle led the attack with 15 points. Dwayne Finley had 13 and Tayshon Butler, James Delia and Steven Joseph all came up with nine points.
#"Prince Will played a very good game, more so on their defensive sets.
#Hats off to them," said CI Gibson's coach Kevin 'KJ' Johnson, who also heads the Providence Storm Basketball Club. "On the flip side, my boys never got into the flow of the game.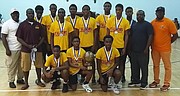 JORDAN Prince Williams Falcons with their runners-up awards in the senior boys' division of the Providence Storm Basketball Club Holiday Classic on Friday night.
#"Not taking anything away from Prince Will, but we missed far too many free throws and far too many lay-ups and we had no energy on the defensive end, but we were able to win a grind out game that the fans enjoyed. So we will take the win."
#Johnson said they will go back to the drawing board and get ready for the Government Secondary Schools Sports Association season in January. Hopefully, they can correct the mistakes they made and be in contention to have a successful season.
#For Jordan Prince Williams, Jakavo Kemp scored 15, 14 of which came in the second half; Trevon Clarke had 14; Kamari Minns 13, including 11, three of which were three-pointers, in the first half and Backley Cadet helped out with 12, including 10 in the second half.
#Despite the loss, Falcons' coach Ernest Saunders said they provided the excitement for the fans to enjoy.
#"We did a great job. At the end of the day, we played a great team with a great coach, so we have to tip our hats off to them," he stated. "As time goes on, we will get better. I'm looking forward to playing them again. I wish we could play them every day because they will only make us better."
#As Jordan Prince Williams gears up for their participation in the Bahamas Association of Independent Secondary Schools (BAISS) season, Saunders said they will review the video recording of the game and develop a sense of patience when executing their plays on the court.
#The Falcons didn't execute enough patience to get the right shot off twice in the winding seconds of the game that prevented them from pulling off the victory.
#With 20.5 seconds left on the clock, Delia drove to the baseline for an easy lay-up for a 60-59 lead for CI Gibson.
#Jordan Prince Williams came back at the other end and turned the ball over.
#With 4.3 seconds, Rolle converted just one of three free throws for the Rattlers, but the Falcons couldn't hit their final shot as time expired.
#Semifinal action
#CI Gibson A 34, CC Sweeting 26:
#Tayshon Butler and James Delia provided a 2-2 punch for the Rattlers with 15 and 12 points respectively as they held onto their 18-17 halftime lead to advance to the championship.
#Jamerolston Vil scored nine, Jason Williams had six, Tavari Roker five and Mateo Minnis four in a losing effort for the Cobras.
#Jordan Prince Williams 41, Doris Johnson 38: The Falcons led 26-19 at the half, thanks to Backley Cadet's 12 points and they held on in the second half for the win. Kamari Minns scored 10; Keino Stuart added nine and Jakano Kemp chipped in with six.
#Laterrio Young scored a game high 20, Torrien Marshall had nine and Khyze Smith five in the loss for the Mystic Marlins.
#• Here's how they got out of the pool championships
#Pool D championship
#Doris Johnson A 35, Charles W. Saunders 34: Ryan Lewis hit a three-pointer to seal the win for the Mystic Marlins. He finished with six. Laterrio Young had nine, Torrien Marshall eight and Jay- Onn Joseph chipped in with seven. Doris Johnson led 20-9 at the half.
#Romial Lightbourne scored nine, Tenaj Strachan had seven and both Raymon Woodside and Traymon Pickstock had six in the loss.
#Pool C championship
#CC Sweeting 32, Queen's College 7: Mateo Minnis scored a game high 15 points to pace the Cobras, who led 22-6 at the half.
#The Comets, with only five players in uniform, scored just one point in the second half. Daniel Rolle led their attack with five.
#Pool B championship
#Jordan Prince Williams 27, CI Gibson B 17: Kamari Minns scored 10 points and both Devon Ferguson and Keino Stuart both had six in the win for the Falcons, who came from a 13-9 deficit at the half.
#Prince Wheatley had 11 points in a losing effort.
#Pool A championship
#CI Gibson A def. 66, Doris Johnson B 21: James Delia scored 19 points, including eight in the second half, along with Gerard Rolle had eight of his 15 in the second half for the Rattlers. Tayshon Butler added 11 points.
#Brendon Williams had 15 and Timothy Adderley six in the loss.
#Named to the All-Tournament team for senior boys are the following players:
#CC Sweeting – Jamerolston Vil; Queen's College – Leo Burrows; Jordan Prince Williams – Kamari Minns and Jakavo Kemp; Doris Johnson A – Laterrio Young and Torrien Marshall; CV Bethel – Derick Edgecombe; Agape – Jason Williams and CI Gibson A – James Delia and Gerrard Rolle.
#Winning the individual awards were the following players:
#Most rebounds – Leo Burrows – Queen's College; most assists – Laterrio Young – Doris Johnson; most blocks – Kaman Minns – Jordan Prince Williams; defensive player – Laterrio Young – Doris Johnson; most offensive player – James Delia and tournament MVP – Gerrard Rolle – CI Gibson.
http://www.tribune242.com/news/2023/jan/03/c-i-gibson-rattlers-win-senior-boys-title/?news