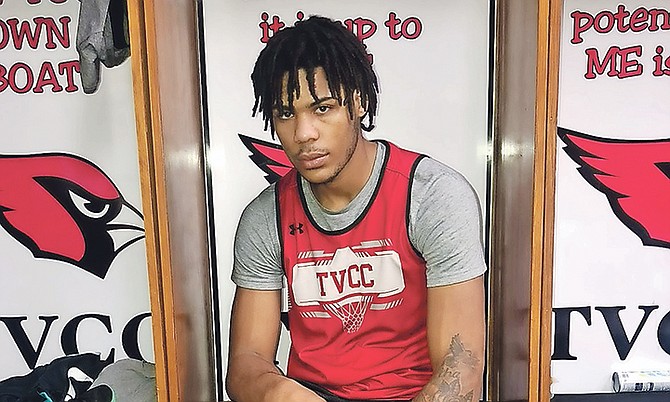 Lathaniel Bastian
#By BRENT STUBBS
#Senior Sports Reporter
#bstubbs@tribunemedia.net
#After missing out on his first opportunity to secure a major division one basketball scholarship, Lathaniel Bastian is hoping that his dream comes true this time around.
#The 2016 graduate of Doris Johnson High School, where he helped the Mystic Marlins under coach Denycko Bowles win the school's first championship title, will get a chance to display his skills at the All-American Junior College Showcase.
#The event, scheduled for August 15-16 at the International Sports Arena in Stone Mountain, Georgia, will feature the elite 80 players in the west (used to be invited to our Vegas event) and the elite 80 players in the east combined together for one big weekend.
#Each player will play up to four games throughout the weekend, concluding with the top 20 All-Star showcase where the top players from the event will advance.
#This showcase is designed for the top rising junior college sophomores in the country with games being played in front of a national audience on ESPN, CBS Sports and Rivals with NBA personnel and numerous other national media and scouting services on hand.
#Each player will be evaluated and considered for the 2021 JucoRecruiting.com Top 100 Rankings.
#Having had his student visa denied at least five times by the American Embassy, Bastian missed out on an opportunity to play for the Gillette Proghorns in Gillette, Wyoming.
#Instead, after he finally got his visa sorted out, he went to Rend Lake College in Illinois before he transferred to Trinity Valley College in Texas in January.
#Of course, he didn't get to display his skills because of the shutdown of sporting activities worldwide in March because of the spread of the coronavirus pandemic. "It's all about putting in the hard work and being in the right position," said Bastian, who is still in Texas preparing for the showcase after he got some exposure playing in the Bahamas Basketball Federation's Summer of Thunder with the Commonwealth Bank Giants and the International Basketball Academy – Bahamas.
#"I feel like I'm in the right position. I had a lot of offers coming in, but they really want me to play in this showcase to see how I will fear against the potential college players. They are going to see me play."
#The 21-year-old Bastian said the assistant coach art Trinity Prep have been working with him on his basketball skills, making sure that he is properly prepared to shine in the showcase.
#"My coaches just told me to continue doing what I've been doing and that is play hard," said Bastian, who stands at 6-feet, eight-inches and play the small forward position.
#"I feel like I've been stepped over my whole life and having had a chance to come here to the United States to play last year, this is a good opportunity for me to really perform. So I'm really happy and excited. I just want to dominate"
#Calling it his second time around to shine, Bastian said he have nothing to lose, but everything to gain.
#"I have improved so much in the game, so I feel my chances to shine is great," he insisted.
#Bastian thanked God for giving him the ability to get into the United States and top perform. He also credit his mother, Monique Jennings, for being there financially for him every step of the way.
#"I've put myself in this position to be successful," he stressed. "My mom has tried her best with no help. I haven't had to ask anybody to assist me in any way. But I'm glad to get this opportunity and I hope to make the best of it."
#At present, the United States is under siege because of the rise in cases of Covid-19, but Bastian said while he is concerned about what's going on, he's not going to let it deter him from his ultimate goal.
#"It's here and we have to deal with it," he insisted. "But while I'm concerned about it, I have to do what I have to do. Follow the safety rules and hope that I am not affected."
#Hopefully, he said the virus will pass soon, but he's more eager to be able to get to the showcase and display his skills. The officials have released the list of measures they will take for everyone as they participate in the showcase.