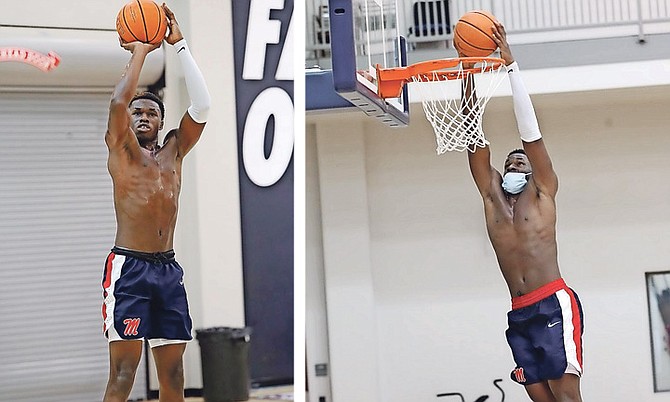 Samuel Hunter shoots during a training session.
#By BRENT STUBBS
#Senior Sports Reporter
#bstubbs@tribunemedia.net
#After spending time here at home since March during the suspension of school because of the coronavirus pandemic, Samuel Hunter has returned to the University of Mississippi for his sophomore year as a member of the Rebels men's basketball team.
#"It's been good. We've been working out, but I have to get used to breathing in the masks that we have to wear," said Hunter, who went back to Mississippi in July to prepare for the upcoming season.
#"I think we have a good team. I think we have a good chance to win a lot of games and hopefully get to the NCAA Championships. It's going to be a lot of fun playing with these games."
#In preparation for his return to the Rebels' line-up where he hopes to move from the bench to the starting line-up, Hunter spent some considerable time working out here at home with some top Bahamian players like Zane Kmowles, Michael 'Furly' Bain, Detarrio Thompson, Jeffery Henfield and Adam Johnson to sharpen his game.
#"I know the work will pay off," said Hunter, a 6-foot, 6-inch forward.
#"I am just glad to be back here. Hopefully everything will go full stream ahead from here.
#"I just have to continue working on my game and hopefully I can get to start this year. I just have to be ready for whatever happens this year."
#If all goes well, the Rebels, coached by Kermit Davis, are scheduled to open their season on November 10 against New Orleans in the first of three home games.
#That will be followed by North Carolina A&T on November 15 and Charleston Southern on November 18 before they play their first game on the road in Niceville, Florida against La Salle on November 23.
#Having started classes on Monday, Hunter said he's looking forward to duplicating or surpassing the 3.8 grade point average he maintained as an honour roll student last year as he continues his studies towards a degree in sport and recreation administration or sports management.
#"They gave us a lot of help with our tutors and stuff, but you just have to stay focused," said Hunter, who graduated from British Columbia Christian Prep in Canada. "I just have to stay focused on basketball and school and still have some fun."
#While there is still a lot of concern about the coronavirus, Hunter said he's taking it in stride.
#"You only can control what you can control, so you just have to put your mask on, do your hand sanitising and so I want to encourage everyone in Nassau to put their masks on," Hunter said.
#"You can't save everyone, but you can try. Just stay safe and mask up. That's all I have to say. We have our protocols to follow over here and I'm trying to follow them. So I want to encourage the Bahamian people to do the same over there."
#Hunter, who turns 20 on November 28, is coming off a freshman year with the Rebels, having played in 27 games, primarily off the bench, averaging 12.1 minutes per game. In his only start versus Butler, he logged a career-high 31 minutes with 12 points and three rebounds.
#He finished the season with a tally of 2.9 ppg and 1.4 rpg. He shot 40.8 per cent (29 of 71) from the field, 12.5 per cent (1 of 8) from beyond the arc and 70.4 per cent (19 of 27) from the free throw line.
#Additionally, Hunter scored a career-high eight points in the win over Western Michigan (11/15). He also helped Ole Miss earn a victory over Vanderbilt (2/29) with seven points and a career-high three blocks, tying for the most blocks by a Rebel in a game throughout the season. And he recorded a career-high three steals in a win over Missouri (3/4).
#The son of Andrew and Sophia Hunter was ranked as the No. 184 prospect, according to 247Sports, averaging 27.0 ppg, 8.0 rpg and 3.0 apg as a senior at British Columbia Christian Prep.
#He was named the MVP of the Signature All-Canadian Showcase, competing among the top seniors in Canada, by scoring 18 points to go along with five rebounds and two blocks. He also recorded 13 points, four rebounds and two steals in the BioSteel All-Canadian Game, featuring the top 24 male Canadian high school basketball players who are either Canadian-born or enrolled in a Canadian institution.
#Also, he averaged 18.5 ppg and 6.5 rpg for the Bahamas in a pair of exhibitions against ACC teams, including an 18-point output versus North Carolina and he earned a spot on the Caribbean Tip-Off Classic All-Tournament Team by averaging 33 ppg throughout the tournament that included a 40-point outburst.
#Hunter also competed in the 2018 Central American and Caribbean Games for the Bahamas senior national team and he averaged 14.6 ppg and 6.8 rpg for the Bahamas junior national team at the 2017 Centrobasket Under-17 Championship. He was also a member of the Bahamas 2016 CBC U-16 Championship team.