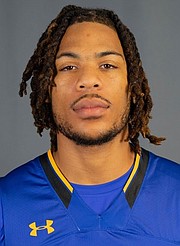 LATHANIEL Bastian
#By RENALDO DORSETT
#Tribune Sports Reporter
#rdorsett@tribunemedia.net
#LATHANIEL Bastian's academic and athletic journey will continue at the Division I level.
#The junior forward ended his time in the transfer portal when he took to social media to announce his commitment to the Cal State Fullerton Titans.
#The 6'8" forward and transfer from Angelo State chose the Titans over the University of Charleston, Minnesota State Moorhead, Grenville State, Fort Lewis, Benedict College and Texas at Tyler.
#Cal State Fullerton was the champion of the Big West Conference last year and earned a No. 15 seed in the NCAA Tournament.
#Titans head coach Dedrique Taylor will be in his ninth year at the helm of the programme.
#In his lone season with the Rams in NCAA Division II, Bastian was a Lone Star Conference Honorable Mention selection last year.
#He led the Rams in rebounding and blocked shots, averaging 7.8 boards and 1.4 blocks per game. He pulled down 219 rebounds, 90 on the offensive glass. He averaged 11.3 points per game on 61 percent shooting from the field.
#Bastian recorded nine double doubles on the year. He scored season high 23 points against Western New Mexico on February 3, was also his best shooting night at 8-12 from the field.
#His other season highs included 16 rebounds against West Texas A&M on March 3, four blocks against Northwest Nazarene on November 19, and four steals against Fort Lewis on November 14.
#Bastian spent the previous two seasons with the Trinity Valley Community College Cardinals at the Junior College level.
#As a sophomore with the Cardinals he averaged 5.9 points and 6.8 rebounds per game. He also finished with 19 blocks, 11 steals, and 14 assists on 53 percent shooting from the field.
#Bastian is a product of the Doris Johnson Mystic Marlins programme at the high-school level before continuing collegiately in the United States.