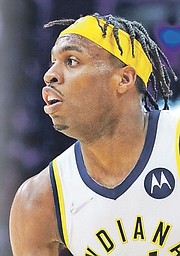 #By RENALDO DORSETT
#Tribune Sports Reporter
#rdorsett@tribunemedia.net
#BUDDY Hield is spending a part of his off-season at home on a talent search for his youth basketball programme but also announced his intention to return to international competition for team Bahamas.
#While overseeing approximately 80 players for his "Buddy Buckets" AAU team tryouts, Hield committed to suit up for Team Bahamas this summer in the third and final window of FIBA Americas World Cup 2023 qualifiers.
#"Oh yeah, I'm playing this summer," Hield replied when asked The Bahamas' next step in the qualification process.
#In the upcoming window, The Bahamas will have its second matchup against The USVI on July 1, 2022, and will conclude with their second matchup against The Dominican Republic on July 4, 2022.
#The Indiana Pacers guard made his last Bahamian National Team appearance in 2018 at the third qualifying window for the FIBA Basketball World Cup China 2019.
#On its current path toward World Cup 2023 qualification, The Bahamas is currently 1-4 through the first two windows which featured a win over the US Virgin Islands, a pair of losses to Canada and a loss to The Dominican Republic.
#As for the "Buddy Buckets" talent search, Hield hosted scores of aspiring boys basketball players between the ages of 15-18 over the weekend at the AF Adderley Gymnasium.
#"The talent was good, we all started off from the bottom, a lot of guys that were here, we have a lot of work to do with them but I found a lot of talent here. They just have to keep working in the summer, sharpen those skills and I'll take them over in the summer with me to work get them situated as best we can and play some AAU basketball," Hield said, "The main goal is to get 16-18 guys and work with them. You want them to get playing time, you want them to be seen you don't want them to just be there on the bench and I don't want to do that to kids."
#For the players that are not selected, Hield said they will have other opportunities in the future but to use that disappointment as a catalyst for improvement.
#"Don't let that discourage you. I've been cut many times but I never let that break me," he said, "Just get back to the drawing board and keep working. I tell them there's always a next opportunity next year but you have to really put the work in, put the time and effort in. Keep on working, stay humble and strive to be better."
#In 2020, Hield expanded his Buddy Buckets Programme to the Bahamas aimed at giving players more opportunities for exposure and to advance their skillset on the AAU circuit.
#According to its website, Team Buddy Buckets, is a Public Charity Non-Profit Foundation "organized for the purpose of investing in the dynamic leadership potential of student-athletes with intentional considerations for the disadvantaged and underserved. We TeamUp with Caring Influencers in our communities to serve and provide Leadership, Life Skills and Talent Development programs to educate, equip, and enhance student-athletes performance in the classrooms of education, on the court of competition, and in OUR respective communities."
#Hield said his desire to extend the programme to The Bahamas was to provide support to the underserved student athletes of this generation based on his own experiences growing up in Grand Bahama.
#The sixth year sharpshooter had a strong conclusion to the 2021-22 season for the Indiana Pacers and looked forward to his future with the third franchise of his NBA career thus far.
#Hield was traded to the Pacers in February and in 25 games with the club, he averaged 18.1 points, 5.2 rebounds, and 4.7 assists per game. He shot 45 percent from the field and 36 percent from three point range in just over 35 minutes per game.
#Prior to the trade, Hield averaged 14.4 points per game, made 182 three pointers, and was shooting a career-low 37 percent in 28 minutes per game with the Sacramento Kings.
#"Sometimes all you need is a change of scenery, he said, The time in Sacramento was done but I'm grateful for the opportunity in Indiana, getting better each and everyday, learning and trying to take that next step."