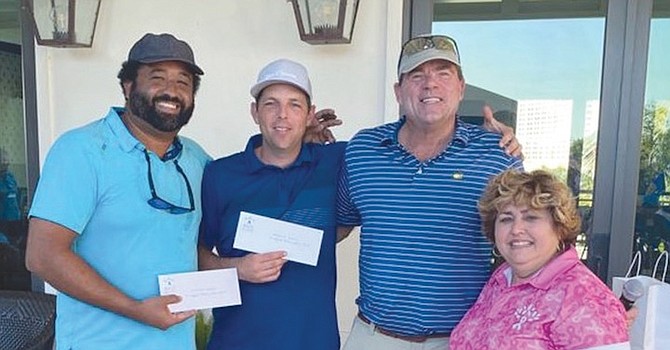 CHAMPIONS Andrew Bell and Marcus Farrington receive their awards from Phil Andrews and Gina Gonzalez-Rolle. Photos by Erin Stuart
As of Wednesday, January 11, 2023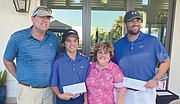 PHIL Andrews and Gina Gonzalez-Rolle present runners-up Aiden Gorospe and David Bethel with their awards.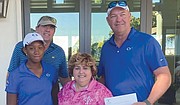 THIRD place finishers Madison Carroll and Billy Holowesko receive their awards from Gina Gonzalez- Rolle and Phil Andrews (in the background).
#By BRENT STUBBS
#Senior Sports Reporter
#bstubbs@tribunemedia.net
#THE fourth edition of the Cancer Society of the Bahamas charity golf tournament saw the team of Andrew Bell and Marcus Farrington emerge as the champions on Majority Rule Day yesterday at the Baha Mar resort's Royal Blue Golf Course.
#The duo, playing under the team of Sands Beer, posted a net score of 53.10 to beat out the team of David Bethel and Aiden Gorospe, who shot 49.50. The third finishers were the pair of Billy Holowesko and Madison Carroll with 48.70.
#A full field of 104 golfers participated in the two-man scramble that raised close to $100,000 for the Cancer Society of the Bahamas, according to Phil Andrews, one of the tournament committee members.
#For Bell and Farrington, it was a total team effort.
#"It was just all, just ham and egg. When I was out in the hole, my partner carried me and he was in it. He was the egg," Farrington said.
#Bell, a former national team swimmer and cyclist, said they just came out to relax. "Our last tournament, we didn't play too well. We were probably a little too tense," he said. "But we came out here and saw a lot of the professionals dressed in their orange and black, and the other teams, so we just decided to come out and have some fun."
#To do it one shot at a time, Farrington said they did it for his grandmother Sue Roberts, who was the woman behind the formation of the Cancer Society of the Bahamas and Jimmy Sands and Sands Beer.
#As the runners-up, Bethel and Gorospe said they were pleased with their accomplishments.
#"It was a lot of fun. Aiden carried the team with putts all day. He made it look so easy as one of the young and coming juniors," Bethel said. "He's going to show what the Bahamas can do in the future. I'm glad I played with him."
#Gorospe, however, refused to take all of the credit.
#"He sunk some putts some time and he helped us as a team to win," said Gorospe, a 13-year-old eighth-grader at Windsor Academy. "It was great to play with him and to finish as the second best team."
#Although they were third, it was a good effort.
#"I felt that it was great. I just needed to work on my putting and I know my iron shots were off, but on the last hole, I made the shot for birdie," said Carroll, a 12-year-old sixth grader at Tambearly School.
#She noted that she couldn't ask for a better partner than Holowesko, who helped her as they talked about each aspect of their game as they played the course.
#"It was a wonderful opportunity to play with such a talented junior," said Holowesko, one of the top Bahamian sailors. "It was nice to get her perspective on what she likes to do on the golf course and what is her favourite hole. We had a great time out there. It was unexpected that we got third, but we just grinded it out."
#Finishing in order to receive awards were the teams of Luke McCarroll and Mackenzie Brown, fourth with 48.65, Steve Tiller and Brent Chapman, fifth with 48.50, Phil Andrews and Sean Albury, sixth with 47.95, Jim Laroda and John Reckley, seventh with 47.90, Phil Gorman and Richie King, Alistar Chisnall and Curtis Robinson, eighth with 47.80, Marc Robinson and Jimi Thompson, ninth with 47.55, 10th with 47.00 and Neala Jones and Paul Winder, 11th with 46.70.
#Sue Roberts, of the Cancer Society of the Bahamas, said they are very pleased to host the event for the fourth year because it's for such a worthy cause.
#"It brings out a lot of people and there's great camaraderie and it's played on such a wonderful golf course, but I have never played golf in my life," she said.
#"There's not one family in the Bahamas that has not been affected by cancer, so it touches everybody's heart."
#Gina Gonzalez-Rolle, a committee member for the Cancer Society golf tournament, said they had a great event.
#"We had a wonderful day, the weather was well and everyone had a great time and we had wonderful prizes to give out," Gonzalez-Rolle said. "We want to thank everyone for their support, everyone who volunteered and came out and worked and all of the sponsors."
#The committee, according to Gonzalez-Rolle, is now looking at how they can improve on this year's tournament as they start to prepare for the fifth edition next year.
http://www.tribune242.com/news/2023/jan/11/bell-and-farrington-win-golf-title/?news