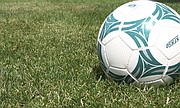 #By BRENT STUBBS
#Senior Sports Reporter
#bstubbs@tribunemedia.net
#THE Bahamas Football Association has announced that their men's and under-17 boys teams will be heading off next week to compete in two different tournaments.
#The men's team, now under the supervision of talented player Nesly Jean, will head to Jacksonville, Florida, to take part in a preparation camp geared towards their participation in two international events.
#On March 16, the team will take on the Turks and Caicos men's national team in a friendly match to get the team prepared for their next Nations League match.
#On March 23, the Bahamas will take on Monaco in an away game in their Nations League match.
#The Bahamas is coming off a 6-0 loss and a 1-1 tie to Antigua and Barbuda as well as a 4-0 loss to Belize.
#Jean, who played on the team, will be moving up to supervise the coaching staff as he takes over from Dion Godet, who previously coached the team.
#Godet had said last year that he felt he had taken the national team as far as he could and he would meet with the BFA to discuss his replacement.
#Jean nor Godet were available for comments on the changeover.
#During the camp, Jean is expected to select the players who will go on to play in the National League Cup. A number of players from various schools in the United States are expected to join some of the locally based players in the camp.
#Meanwhile, the BFA also released the names of the players who will represent the country on the under-17 boys' team that will head to Bradenton, Florida for the CONCACAF Under-17 boys championship qualifying round.
#The team will leave on March 15. They will play four matches out of Group C against Guadeloupe, Aruba, Saint Martin and Bonaire.
#Larry Minns is the team manager, the head coach is Paul James, assisted by Carlton Adderley. The team's physician is Dr Laurette Isaacs-Brown.
#The team members are Mario Johnson, Ian Lowe, Elijah Mitchell, Dereck Ferguson, Kenaz Swain, Kyle Ferguson, Luke Lockhart, Camrawn Cox, Reon Davis, Carlysle Brown, Terrance Chisholm, Dominic Archer, Mason Lowe, Alonzo Smith, McLean Goodfellow, Michael Strachan and Daylan Russell.
#The team will continue their nightly training at the Roscow Davies Soccer Field in preparation for their departure next week.
#On March 17, the team will play its opener against Aruba. Their second game will be played on March 21 against Bonaire. The third game is set for March 23 against Guadeloupe and the final game March 25 against Saint Martin.