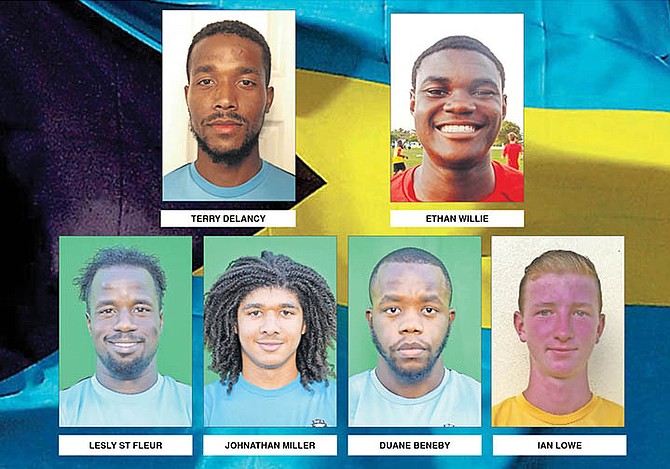 As of Wednesday, September 5, 2018
#By BRENT STUBBS
#Senior Sports Reporter
#bstubbs@tribunemedia.net
#After watching the success of its beach soccer programme take off over the last few years, the Bahamas Football Association will now switch its attention back to its once vibrant grass soccer programme.
#The first step back to prominence will begin this weekend when the federation sends the men's national soccer team off to Belize today to participate in the first game of the CONCACAF League of Nations.
#It's a new national team competition platform designed to maximise the quality, quantity and frequency of competitive matches for all member associations and they are based on a league structure in which the national teams of the Confederation's 41 member associations will be included.
#The teams will be divided into three different leagues – based on their sporting level – with a champion to be crowned at the end of each edition. Over the next six months, the Bahamas will eventually play a total of four matches, two of which will be at home.
#However, they will begin the League of Nations on the road this weekend and Larry Minns, the ambassador for football in the island nation, who has been selected as the manager of Team Bahamas, said they are ready for the journey.
#"This gives the smaller countries to bridge the gap against the bigger countries," Minns said. "Normally we would go for 3-4 days and play a match and it's over. This Nation's Cup is every year. So it gives the smaller countries a chance to develop."
#Team Bahamas will play Antigua and Barbuda in October and then they will play Anguilla, both here at home. Next year, the Bahamas will play their fourth game on the road in Guadeloupe against Dominica, who unfortunately won't be able to host the game because of the effects of a hurricane.
#Team Bahamas will have a relatively young team, coached by Dion Godet, but Minns said they have some veterans who they will lean on to steer the ship as they play in the series of games.
#Making up the team, comprising of at least eight players who are playing overseas, are Chadwick Russell, 19, Mario Johnson, 16, Ian Lowe, 15, Valin Bodie, 23, Lesly St Fleur, 29, Marcel Joseph, 21, Terry Delancy, 24, Johnathan Miller, 20, Troy Pinder, 21, Isaiah Collie, 21, Jaelin Williams, 20, Duane Beneby, 25, Chris Rahming, 19 and Ethan Willie, 19.
#Beneby, making his third appearance on the men's national soccer team, said the tournament is good for Team Bahamas because they haven't played a game since 2015 when they faced Bermuda in the World Cup qualifier.
#"We're looking at four matches over the next four-five months so that is really great for us," Bodie stated. "I don't think in our history of playing soccer that we would have played that much games in such a short space of time. So it's giving us a lot of chances to get a lot more exposure, a lot more experience. This is a really young team with the average age being about 21 with the oldest player being 28 and the youngest at 15."
#Beneby, however, said they have a solid core of players that should represent the Bahamas very well and put up a good performance in Belize.
#"We have a handful of veterans, but the majority of the players are very young," he said. "Some of their nerves might be on them, but we have a good mixture of veterans and youth to be able to pull us through and give a good representation of the country."
#Bodie said they are looking at developing this team in a four-year programme, which should pay off dividends for them down the road for the growth of football in the Bahamas.
#"For the past four years, we haven't had a game," Bodie said. "So we usually play a game, wait for four years and play another game. But this brings more growth to the sport.
#"Personally, I like how the federation is using the younger players but, at the same time, they are bringing in the more experienced players to help us out. It's going to be important for us to grow up fast, not just for us, but for the country."
#With players like Sturrup and St Fleur, the team captain, Bodie said they will be relying on their strength which is their defence and once they can hold their own, he feels that their offence will come through.
#And Rahming, who is home on a break from England, said based on the training that they have gone through in preparation for the games, they will do very well, despite being such a young team.
#"I think over the summer we have grown together," he said. "We will be playing to our strength, which is our speed and defence. So if we play to our advantage, I feel we will do very well."
#Although they have a number of players overseas, Rahming said they can assure the Bahamian public that they should "not sleep on us."
#Garry Markham, the BFA's technical director, said they have spent the past three months putting the team together and with this being the Bahamas' first game in three years, it will be a challenge, but one that he's confident that they will overcome.
#"We're in an ironic position in that a lot of our guys are away in college and the beauty of that is that they are on scholarships and that is because they are playing soccer," he said.
#"So bringing them back is a short-term process, but we have four games coming up and this one first will be a test. But they have been working hard and are fitness tough to do very well in Belize."
#As a young team, the expectations are not as high as it would be if it was a more experienced team. But Markham said the good thing is that they will get to gel together from the bottom and move up to the top as a uniformed group, which is good for the Bahamas.
#Through this tournament, Markham said they hope to get better and the players are aware of that and once that all comes together, the Bahamas will be able to resurge to the top of the chart again.
#"You can't deny the fact that beach soccer has really helped to boost the sport in the Bahamas," Markham said. "But our aim now is to get grass soccer back and we hope this is a step in the right direction with this young team that we have assembled for the CONCACAF League of Nations.
#"We can compete on both beach and grass, but we want to get the whole nation to start playing football as a whole and we know that we will be able to achieve that, once we can get both playing at a high level on the international scene."