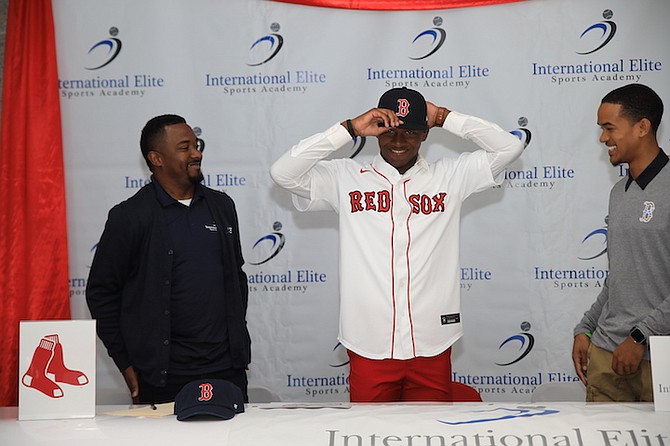 Chad Delancey puts on his Boston Red Sox cap as coach Albert Cartwright and Boston's Bahamian agent, Dominique Collie, look on. Photo by Trevere Saunders.
As of Monday, January 23, 2023
#By BRENT STUBBS
#Senior Sports Reporter
#bstubbs@tribunemedia.net
#DOMINIQUE Collie felt he could not have signed a more deserving player to the Boston Red Sox than International Elite Baseball Academy's shortstop Chad Delancey.
#In his first official duty as a Bahamian agent for Boston, Collie signed Delancey to his official Red Sox contract on Saturday in the foyer of the Thomas A Robinson National Stadium in front of family members, friends and members of the I-Elite progamme.
#Delancey, better known at I-Elite as 'the Big C' or the 'philosopher,' said he can now fulfil his childhood dream, which came at the age of five, to play professional baseball.
#"When I was 12 years old when I joined the programme, I knew that I could do it," 16-year-old Delancey said.
#Now that he's on his way, Delancey said he hope that he can meet up with the right people, who can help him advance his journey and get to connect with the different people from around the world with the different cultures that he's never experienced before.
#"Ultimately, I want to be the same person that I am and hopefully I can inspire more young people to do the same thing that I am doing," he said.
#"This is something that is achievable if you work hard.
#"It wasn't enough for me, but if you put your trust in God and trust the process that you have to go through, anything is possible."
#Delancey's signing came a day before Andru Arthur signed his name on the dotted line for his contract with the St Louis Cardinals yesterday at the same venue.
#Collie is a former player who didn't continue on the field, but stuck with it off the field and is now a respected scout in Boston. He welcomed Delancey to the Rod Sox organisation. He said they are looking forward to some great things as they head off to their training camp in the Dominican Republic.
#"It's not what he does on the field, but the type of person that he is off the field," Collie said. "I think both of those ingredients will help him to succeed as a professional baseball player. And so I want to thank Mr and Mrs Bannister for entrusting your child with the Boston Red Sox and for me to sign him as my first Bahamian player as a scout from the Bahamas."
#His mother, Deisha Bannister, said she and her husband, Colin Bannister, are in awe of Delancey's accomplishment and they believe in the Red Sox organisation to get the best out of their son as they venture into the pro ranks. "This is a surreal moment for me," she said. "Chad has always known what he wanted to do and so I'm just proud that I am able to support him and he can actually realise and accomplish his dream today."
#With a village helping to raise her son, Bannister said she's grateful for all those who assisted in anyway to get him to achieve his accomplishment today.
#"I'm thankful for the mentors who were put in his life," she said.
#And as he prepares to leave her nest and embark on his pro career, she had this bit of advice for her son. "Character is who you are when no one is watching," she stated. "With God, all things are possible, so put God first and he will do the rest."
#Having done what they had to do, Sands said I-Elite is delighted to put Delancey, a smart, determined and mature baseball player into the hands of the Red Sox.
#"The first time I saw Chad, I was at JBLN and my eyes caught the way he played. He kind of reminded me of Lucius Fox when he played around 9-10 years," Sands said. "That was what caught my eyes there.
#"So I decided to keep my eyes on him. Fast forward to a couple years later, I saw him again and I told him that he needed to get bigger because he was a little too small. He would have two breakfast and then he was looking for lunch. That's the determination and dedication that he did to get to this level."
#Cartwright said when Delancey came into I-Elite, he felt he was too small and he wasn't convinced that he would grow to the size that would enable him to play at the pro level.
#"But he put a lot more work in than most of the other guys," Cartwright said. "He put his trust in the coaches and today he's reaping his reward. We're so happy for him and I'm so proud of him because he really put in the work to get here today."
#Steven Curtis, according to Cartwright, was the coach who introduced Delancey to I-Elite and looking at his progress, they made the right choice in making him a part of their organisation because he did all of the things necessary to make it as a pro player.
http://www.tribune242.com/news/2023/jan/23/big-c-delancey-goes-red-sox/?news