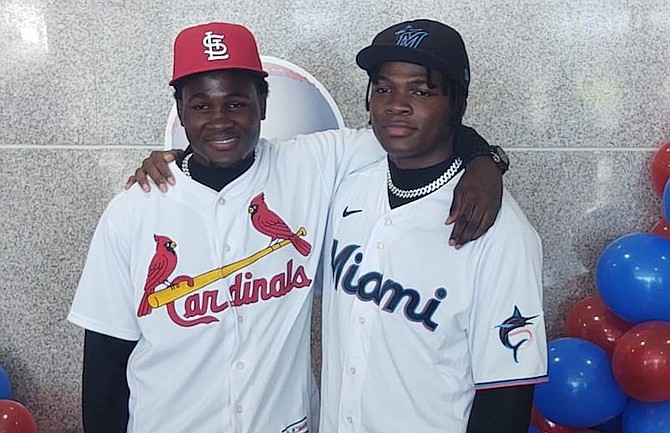 BROTHERS Andru and Andre Arthur share a special moment.
As of Monday, January 23, 2023
#By BRENT STUBBS
#Senior Sports Reporter
#bstubbs@tribunemedia.net
#Andru Arthur, known as the "clean-up batter" for the International Elite Baseball Academy's travelling team, was the last of four signees of professional contracts during the month of January.
#Arthur, following in the footsteps of his older brother Andre, who signed with the Miami Marlins in 2000, inked his name on a deal with the St Louis Cardinals yesterday in the foyer of the Thomas A Robinson National Stadium in front of family, friends and members of the I-Elite Baseball Academy, headed by Geron Sands and Albert Cartwright.
#On hand for the ceremony was the Cardinals' international crosschecker, Damaso Espino, who welcomed Arthur, an outfielder who started out at Freedom Farm, to the St Louis organisation.
#Espino thanked Arthur's parents, Beulah and Anthony Arthur, for entrusting their son with the Cardinals' organisation, and I-Elite and their coaching staff, led by Sands and Cartwright, for working them to achieve this day.
#Espino said this is a day to celebrate all of the sacrifices, hard work and dedication that was put in to achieve this feat by Arthur.
#"The Cardinals organisation take pride not only in the quality of our players, but also the quality of their character, the people and the place where they come from," Espino said.
#"We are very comfortable in the quality of a player and the person we are bringing into the organisation."
#The 16-year-old Arthur said he knows it will be a long process as he starts his journey in the Dominican Republic, but he's prepared to continue to work hard to achieve his ultimate goal, which is to play in Major League Baseball.
#"I was very excited. This was a lifelong event that I was waiting for and now it has finally come through," Arthur said. "I need to work on getting my load back."
#After watching his brother, Andre, sign his contract, Andru said the goal was to follow suit.
#Andre, in setting the stage in 2020, said now that he's playing rookie ball, he gets to fulfil his dream and he can inspire his younger brother, Andru, to do the same.
#"I grew up with him, so it was amazing to see him do the same thing that I did," Andre said. "I'm happy for him and I'm happy for what we achieved together. I'm happy for him as his older brother."
#As he hopes to see him in the Dominican Republic where they will both be heading for their respective training camps, Andre advised Andru to never give up, but continue to press on.
#"He will need a lot of dedication. He won't know what will happen, so just be prepared for anything," stated the 19-year-old Andre, who plays centrefield. "You go in droughts, but just continue the hard work and never waver."
#Their father, Anthony Arthur, said he was just as proud for Andru as he was for Andre.
#"Before this happened, I though I would just sit down and enjoy life, but I'm overwhelmed by his speech and some of the things he said because I used to get in trouble with my wife for them," father Arthur said.
#"I would take them to their baseball practice and when we leave practice, they always wanted me to take them to do some extra practice, so we used to get home round 11:30pm and they had school the next day, so my wife used to get mad with me.
#"But I did what they wanted to do."
#After they both ventured into baseball at Freedom Farm, father Arthur said they both joined I-Elite nd now they bosst of being the first two brothers to sign professional contracts, albeit with two different organisations.
#Like he did when Andre left, father Arthur said his words of encouragement for Andru is simple.
#"The hard work and the sacrifices you made in your early career, you will have to continue that and press even harder because this is just the beginning of the road," father Arthur said.
#Sands said they will miss Arthur because of the memories he left with them during the time he participated in I-Elite.
#"A lot of folks don't understand or know how hard it is to be able to sign a professional contract at the age of 16," Sands said.
#"It's a every day, non stop, seven days of the week, 360, no holidays, no birthdays, nothing.
#"It's baseball all the time, mentally and physically," he pointed out.
#"Your mindset has to be all about your craft and always tell parents, the kids are different when they pursue this career. Here in this country, we really don't place emphasis on sports, but these young men have shown the Bahamas that is possible and it's no mistake.
#"If you put in the work and trust the process, you possibly could have a professional career. So my thing is today, Andru displayed that.
#He came into the programme and after taking about a year off, he had to put in the extra work. He has matured as a man."
#And Cartwright said he was able to witness Arthur's transition from the time he came into the programme as a shy youngster to taking at least 5-6 months before he started to open up in the absence of his parents. "Andru is a hard working young man. Anytime we went to the United States, he did what it took to get here today," Cartwright said.
#"Andrew was also laid back. He doesn't get upset. If he has a good game or a bad game, he's always the same way.
#"I think that will prepare him when he goes to pro ball and he has to struggle with the ins and outs of professional baseball."
#Cartwright, however, said they will miss Arthur because he was a leader of the team and as the third or clean up batter, it was only natural that he would be the last one to complete the signing class of 2023.
http://www.tribune242.com/news/2023/jan/23/clean-batter-signs-cards/?news