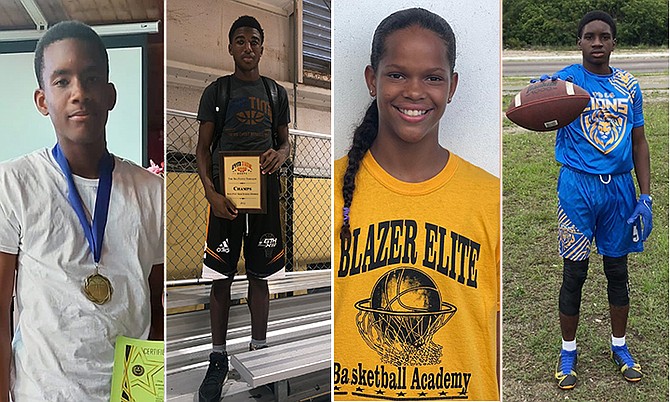 SHOWN, from left to right, are Eric Hudson, Sheen Saunders Jr, 14-year-old Aisha Percentie, and Kenny Johnson Jr.
As of Wednesday, August 17, 2022
#By BRENT STUBBS
#Senior Sports Reporter
#bstubbs@tribunemedia.net
#DR Ray Evans and his Blazer Elite Basketball Academy continues to make provisions for young athletes to obtain scholarships to attend high school, prep school and colleges and universities in the United States.
#Evans, who has assisted a number of Bahamian and Caribbean athletes in the past, has added 15 athletes to the list for basketball, American football and track and field.
#Among the schools the athletes are heading to are Eagle Point Academy, Omega Prep Academy, Immanuel Lutheran Christian Academy, Champions Academy, Greater Destiny, Pine Forest Academy, Atlantis University and Oklahoma Wesleyan University.
#"We have athletes from Grand Bahama, Eleuthera, Nassau, Turks and Caicos Islands in this group," Evans said. "Some have already left, and we have another four leaving on Saturday and the rest going next week."
#One of the benefactors is 14-year-old Aisha Percentie, a basketball player who competed in track and field for the Harbour Island Green School on Bay Street, Harbour Island, and is heading to Oklahoma to begin the ninth grade at Immanuel Lutheran Christian Academy.
#"I feel good. I'm happy to go off and go on with my life," said Percentie, who hopes to follow in the footsteps of fellow Harbour Islander Lashann Higgs, who is currently playing professionally in Europe. Her mother, Melissa Percentie, said it's a miracle from God.
#"I'm really happy for her because she's into playing basketball," the proud mother said. "If she wasn't into it, I don't really think I would be pushing her. But this has been her dream for so long. She just wants to go away and play ball and so I don't want to block her potential."
#The elder Percentie said she's confident that by the time her daughter leaves high school, she would be properly prepared for college. She thanked Evans for providing the opportunity for her daughter to go to school.
#Another Eleuthera native, Sheen Saunders, who played previously with St George's High School in Grand Bahama but returned to complete his high school at North Eleuthera High School, said he too is excited about the opportunity to further his education. "I'm super honoured by it because not too many people get this opportunity," said the 16-year-old Saunders Jr, who will also be heading to Immanuel Lutheran Christian Academy. "Hopefully I can get a decent college basketball offer."
#Saunders Jr, who plays both the piano and guitar and beats the drums, said this is a chance for him to pursue his musical career at the same time.
#"I worked hard to get to this level," said the 6-foot, 4-inch forward, who didn't get a chance to play in Eleuthera because they didn't have a season the past two years due to COVID-19. "Coach Evans has really pushed me a lot. He's made me a much better player in the short time that we worked out together."
#Although the academy is based in Turks and Caicos, Evans said they have an office here in the Bahamas and he's excited to be able to continue to provide avenues for the athletes to further their education.
#"Three years ago, just before the pandemic, we sent about 30 off through our programme," Evans noted.
#"We average about 20-25 every year from the Caribbean. But this year, I made it my goal to get more Bahamians off this year."
#Looking at the list of athletes who were able to obtain scholarships or got some partial assistance, Evans said there are four young ladies as well as players who will be participating in American football.
#"It's a great opportunity and I'm just thankful to God that he has allowed me to be in a position to help these kids,." Evans said. "It was a programme that was first offered to the Bahamas Government to help the athletes in the southern Bahamas because they didn't get the exposure that they needed.
#"But after it didn't work out, we decide to continue to work with the athletes. Next year, our goal is to provide at least 40 scholarships to assist these athletes. So, I'm happy to be in this position to assist as many Bahamians as possible and athletes in the Caribbean in general."
http://www.tribune242.com/news/2022/aug/17/blazer-elite-basketball-academy-continues-help-you/?news