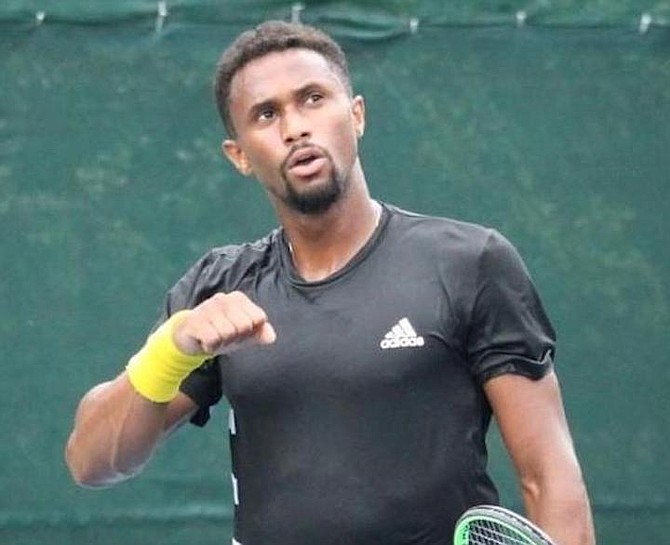 JUSTIN ROBERTS
As of Wednesday, August 17, 2022
#By BRENT STUBBS
#Senior Sports Reporter
#bstubbs@tribunemedia.net
#A series of injuries, including one to his back, forced Justin Roberts to remain on the tennis court sidelines a lot longer than he had originally anticipated.
#Now that the 25-year-old, who hasn't played since July when he was forced to retire trailing 4-3 in the first set of his match against American Ryan Colby at the M15 Pittsburgh, Philadelphia, said now that he's corrected the problem with his back, he's eager to get back on the court.
#"I'm back in training and getting ready to compete," said Roberts, who is looking at a possible return in September. "I am really excited because I'm feeling good."
#In just his second season on the pro circuit since he completed his collegiate eligibility at the University of South Florida (2014-2017) and Arizona State University (2018-2019), Roberts first went down with an injury in March and suffered another in April and May before he got the back injury in July.
#"It's been rough because I had some big goals for this year," said Roberts after he had some pretty good showings in tournaments earlier in the year.
#"With the injuries, I wasn't able to achieve my goals, but now that I am back in training, I'm looking forward to playing the rest of the year. Hopefully I can make up for what I didn't do because of the injuries."
#Roberts, the highest ranked Bahamian player on the 1152 in singles by ATP as of August 15, started the year in Cancun, Mexico in January where he lost in the first round of the M15 Cancun Tournament to American Isaiah Strode.
#The following week, he closed out the month by getting eliminated in the quarter-final of another M15 Cancun to American Emil Reinberg.
#In his return to Naples, Florida in February, Roberts played in three M15 Tournaments losing in the first round to China's Fnu Nidunjianzan, in the quarter-final to American Evan Zhu and in the second round to Sweden's Jonathan Mridha.
#He then went to Anapolma, Germany, only to lose in the third round of the M25 Anapolma to Argentina's Valerio Aboian.
#He participated in a M15 in Sunrise, Florida where he lost in the second round to Bolivia's Juan Carlo Prado Angelo.
#After he recuperated from an injury, he played in the M15 South Bend tournament in Indiana where he was ousted in the first round by American Ryan Shane.
#Before his last tournament in Pittsburgh, Roberts played in Dallas, Texas in July where he lost in the first round to American Ezekiel Clark. "Although I lost the majority of my matches at the beginning of the season, I was still proud that I played in as many tournaments as I did and I performed at my best before the injuries," Roberts said.
#Roberts, however, was disappointed that the Bahamas Lawn Tennis Association didn't select him to the men's team that participated in the prestigious Davis Cup tie that was held in Escazu, Costa Rica, in June.
#The Bahamas team of Kevin Major, brothers Spencer and Baker Newman and player/captain Marvin Rolle, finished winless in their three matches played in pool B against Paraguay, Jamaica and Costa Rica.
#The team ended up beating Guatemala 2-0 to remain in the American Zone III for 2023 with their fifth-place finish.
#"I love playing for the Bahamas, but I was disappointed that I wasn't selected to the team this year," said Roberts, who was hoping for another top player ranking exemption from playing in the BLTA's Tournament in December to earn a spot on the team.
#"Anytime, I can represent the country, I am ready," Roberts stated.
#With a year to prepare himself, Roberts said he's looking forward to getting back on the Davis Cup team just as he's doing now for his return to the pro circuit.
http://www.tribune242.com/news/2022/aug/17/roberts-feels-sting-injury-bug/?news