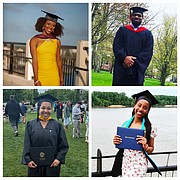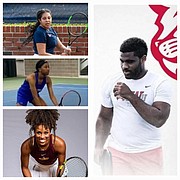 #THE Bahamas Lawn Tennis Association (BLTA) is congratulating Joshua Turnquest, Hannah-Joy Simms, Sierra Donaldson and Afrika Smith on graduating from university this month.
#Turnquest graduated from Indiana Wesleyan University(IWU). He obtained a Master of Arts in Biblical and Theological Studies. He also holds a Bachelor of Art in Accounting from Asbury University.
#He played exceptionally for the IWU Wildcats and Asbury Eagles, who recognised him on Senior's Day when he went four for four in his tennis matches winning two singles and two doubles.
#The coach stated, "We were able to honour our seniors today, we are going to miss Karl and Josh. Their leadership and talent have been so valuable for our team. The last four years, the men's record is 121-18 for a .870 winning percentage. Their highest ranking is the current ranking of No. 2 in the nation. This year our record is 39-4. They have literally set every school record."
#Simms obtained a double major with a Bachelor of Science in Accounting and Psychology.
#She started playing tennis at the age of 10 and represented the Brescia Bearcats tennis team well. She was awarded All-Conference 1st Team for the River State Conference recently. Hannah-Joy closed out her senior year at the Conference Quarterfinals.
#Donaldson obtained her Bachelor of Science in sports management from Lee University. She graduated with honours.
#She was also recognised on Senior's Day by her tennis team, Lee Flames, as they closed out the season at the Conference Quarterfinals.
#Her college tennis career included conference quarterfinal appearances and being named conference player of the week.
#Smith graduated from Bethune-Cookman University where she obtained her Bachelor of Science degree in Accounting.
#Smith represented Bethune-Cookman Wildcats on their Women's Tennis team playing in the #1 position for both singles and doubles. She represented her team well.
#"We know you all will continue to soar," the BLTA said.