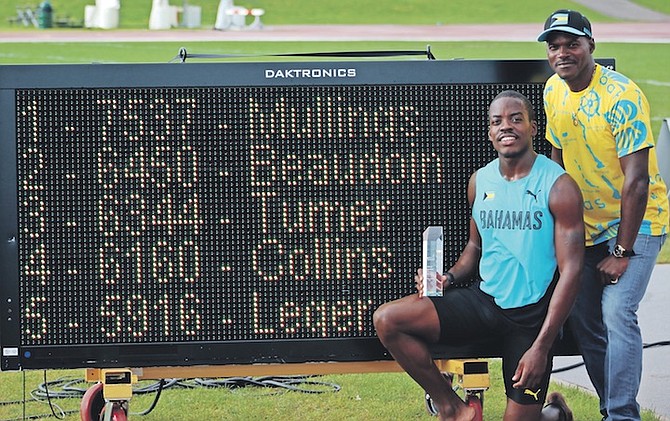 KEN Mullings and team coach Kenny Moxey Sr in front of the scoreboard.
KEN Mullings on the podium receiving his gold medal sandwiched between Canadians Shawn Beaudoin and Rostam Turner.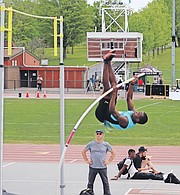 KEN Mullings clearing the pole vault.
#By BRENT STUBBS
#Senior Sports Reporter
#bstubbs@tribunemedia.net
#EVEN though it was a last-minute decision to make the trip to Ottawa, Canada, Ken Mullings is delighted that he went to the North American, Central American and Caribbean's 2022 Combined Events Championships.
#Not only did Mullinfgs end up winning the grueling two-day decathlon ten-event competition, but he was pleased to hear that he could also get an invitation to the World Athletics' 2022 World Championships in Eugene, Oregon, in July.
#The 25-year-old Mullings, a graduate of the University of the Bahamas and a member of Power Athletics Track Club, compiled a total of 7,537 points at the end of the competition on Sunday.
#Canada got second and third with Shawn Beaudoin with 6,450 and Rostam Turner with 6,344.
#Looking back at his performance, Mullings said it was what he anticipated, but he expected a little more competition to help push him over the 8,000- point barrier.
#"I felt really good about my performance. I was really happy with my 400 meters and my improvement in the javelin and the 1,500m especially," said Mullings, who was accompanied by coach Kenny Moxey Sr.
#"I was trying not to focus too much on the competition because I didn't want to put too much pressure on myself. I was trying to focus on one event at a time and get as many points as I could out of each event."
#If selected to compete at the World Championships, Mullings said it would be a blessing in disguise for him.
#"Although I got a short notice, it's good to know that I could be able to go to the World Championships," he said. "I consider that to be a blessing."
#As he waits for confirmation on his entry, Mullings said he and his personal coach Ednal Rolle will now have to go back to the drawing board and try to find a way to secure the points needed across the board in order for him to be able to excel in the vent.
#"We have to get the points in the decathlon. We can't score big in the 100m and then take away points in the long jump," he insisted. "We have to be consistent in the whole ten events."
#Mullings started off the competition on Saturday. winning all five events. He did the 100m in 10.88 seconds for 888 points; leaped 22-feet, 8-inches or 6.91 meters in the long jump for 792 points, threw the shot put 45-6 1/2 (13.88m) for 721 points; cleared 6-5 (1.96m) in the high jump for 767 points and ran the 400m in 49.83 for 822 points.
#On Sunday's final day, he took a total of 3,990 points into the competition and finished by winning three of the five remaining events to stay on top of his rivals.
#In the 110m hurdles, he won in 14.31 for 935 points; got second in the discus with a heave of 126-7 (38.58m) for 636 points; posted 14-5 1/4 (4.40m) to win the pole vault for 731 points' tossed the javelin 186-5 (56.83m) for 690 points, but ended up fifth in the 1,500m in 5:00.76 for 555 points.
#Moxey Sr, a former decathlon, said Mullings' performance was on par, even though they had anticipated a lot more competition from their rivals.
#"He executed his events and he won all of his events with the exception of the discus and the 1,500m," Moxey Sr said. "The competition wasn't quite there to push him as hard as he needed to go."
#Moxey Sr said at the end of the competition, the meet organisers indicated to him that as a result of winning the title, he would be considered for an entry spot at the World Championships, but he said that has to be ratified by the Bahamas Associations of Athletic Association.
#"He definitely has the potential to qualify," said Moxey Sr, of Mullings, who need to score at least 8,350 points to make the official qualifying standard. "He just needs to put it all together."
#In critiquing his performance, Moxey Sr said there are some gray areas that Mullings can improve. He noted that all of his throws could be improved upon, but all of the other events are right on par.
#Mullings thanked his entire coaching staff, es[ecially Ednal Rolle and Aymara Albury, for getting him prepared on such short notice for the trip and Kenny Moxey for his assistance in Ottawa.
#He said he will continue to build on what he's achieved so far and hopefully, he can get the results he's looking for.
#Hopefully, he will also have his training partner and national record holder, Kendrick Thompson, back in action pretty soon as they continue their assault on providing a 1-2 punch for The Bahamas on the international scene in the decathlon.