Blta Endorses Elite Junior Tennis Programme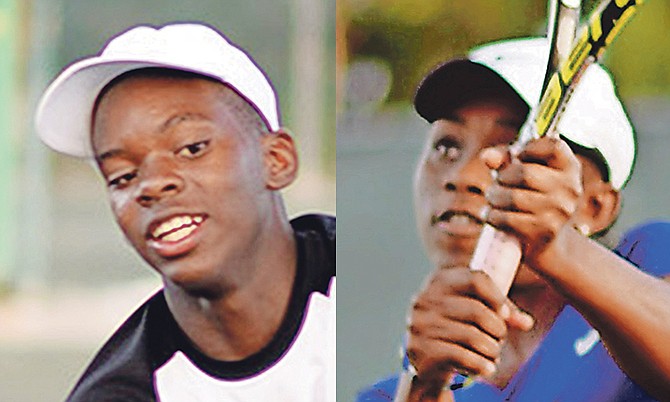 Jacobi Bain and Sydney Clarke.
#THE Bahamas Lawn Tennis Association has endorsed the elite junior programme that former professional touring pro Mark Knowles will be overseeing, starting next month at the Albany Resort.
#Knowles was authorised by Christopher Anand of Albany to create a Bahamian elite junior tennis programme to be an adjunct to the Albany Tennis Academy.
#The Albany Tennis Academy for full-time students opened in September 2017 and is powered by Lleyton Hewitt with Grant Doyle as director of tennis.
#Albany has already accepted two former recipients of the Mark Knowles Invitational Tennis Scholarships, Jacobi Bain and Sydney Clarke, as full-time students of the Albany Tennis Academy. The after-school programme for talented Bahamian juniors will be a programme in association with the Albany Academy and their director of tennis. It will operate under Mark's direction and guidance within the parameters of the Albany Tennis Academy and endorsed by the BLTA.
#The programme is expected to commence Tuesday, October 3.
#GOALS:
#• The selected players will attend after-school sessions at the Albany Tennis Academy and perhaps eventually graduate to full-time students. This will alleviate the need for juniors to attend expensive foreign tennis academies.
#• To identify the appropriate tennis talent within the Bahamas and offering them the opportunity to achieve their goals, even attaining the international successes of a Mark Knowles or Roger Smith.
#• The programme will offer high performance training at world-class facilities to develop local talent scouted by Mark Knowles' Tennis Bahamas and the Bahamas Lawn Tennis Association's youth programmes. Juniors will also be exposed to foreign tournaments and training sessions as organised by Mark.
#• The initial squad will consist of between 4-8 juniors between the ages of 11-15 years. They will continue their education at their local schools with time off to travel to international tournaments.
#Mark will liaise with their individual schools to ensure that their academics continues to be of particular importance.
#"It is in my great interest to start a formal tennis programme at Albany that will benefit the entire Bahamas and especially identify and develop our local talent," Knowles said.
#"I do not want any child to miss out on the opportunity to dream big and achieve lofty goals on the international stage. Now is the time to use my abilities along with the facilities at Albany to create the Bahamas' next world champions."