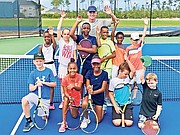 Mark Knowles with some of the participants in the Elite Tennis Programme.
#MARK Knowles is continuing his Elite Tennis Programme at Albany where some of the Bahamas' best juniors such as Donte Armbrister, Jacobi Bain and Sydney Clarke are already participating.
#Knowles, a former Bahamian men's touring pro, has now commenced his evaluation of younger players between the ages of 8-12 years.
#Last weekend he held a clinic for talented juniors who have been recommended for the programme by the BLTA and local teaching professionals.
#"I was extremely impressed with their natural ability and their coaching by local pros has been good," Knowles told the participants. "I will be concentrating more on any deficiencies in their stroke production, match play and how to win points. Also, of course, I will share my experiences on what it takes to become a world-class player."
#Knowles further advised them that ability only goes so far and what separates the very best from the pack, is their work ethic and focus on their goals. "I am optimistic that with my input and our access also to the services of the Albany Academy Director, Grant Doyle, we will go from strength to strength," Knowles proclaimed. "We are extremely fortunate to be able to tap into the Albany world class facilities and Grant, who is a top notch Tennis Professional."