Bodybuilding And Fitness Federation Looks Forward To Competitive Season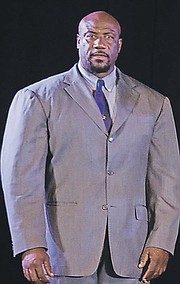 JOEL STUBBS, president of Bahamas Bodybuilding and Fitness Federation.
#By BRENT STUBBS
#Senior Sports Reporter
#bstubbs@tribunemedia.net
#COMING off their appearance at the 47th Central American and Caribbean Bodybuilding Championships in the Dominican Republic last month, president Joel Stubbs said the Bahamas Bodybuilding and Fitness Federation is looking forward to a competitive season this year.
#"The positive energy and enthusiasm for the sport of bodybuilding is on the rise once again," he said. "Many athletes, officials and organisers have already announced their participation to the 2021 seasons.
#"I am hopeful that there will be renewed beginnings for everyone involved. As for our athletes, many of them have returned from the CAC games pumped and energised to train and make the necessary efforts to accomplishing their short coming and placements this year."
#Following the Bahamas' sixth place finish with four medals, led by the husband-wife team of Jimmy and Serena Salis Decius-Norius at the CAC Championships, it was announced that the 48th CAC Championships will take place in Bridgetown, Barbados in June, 2021.
#As a result of the championships being pushed forward, Stubbs said the BBFF has adjusted its schedule to include the Novice Championships on May 15, the Northern Bahamas Championship in Grand Bahama on May 29 and the Nationals June 12.
#"We're doing all of this in an effort to have our locals settle rivalries and to bring back the competitive spirit and to also pick a national team to represent our country at this year's CAC Championships and any other world or international event," Stubbs said.
#"I am optimistic that with the gyms being re-opened and remaining open, this will allow our athletes to train harder and prepare better, and do it with the same intense level of focus, determination, dedication and commitment that they once had."
#Stubbs, one of about 10 professional bodybuilders, said the Bahamas has always had great genetically-gifted athletes here and with the right atmosphere, tools and financial assistance, the sky will be the limit for them. "I say this with pride and a humble sense of boasting. Proper preparation is key," said Stubbs, a Bahamas pilot by profession, but who also works as a personal trainer for a number of athletes.
#"We will be back in the winning circle this year, that's guaranteed."
#Stubbs also noted that there are a few international competitions scheduled that will enable some of the pro bodybuilders to compete as they try to qualify for the World Games in Europe later this year.
#All in all, Stubbs said they anticipate a very productive year for both the amateur and pro bodybuilders and the federation will be doing all it can to ensure that everybody is ready to go.