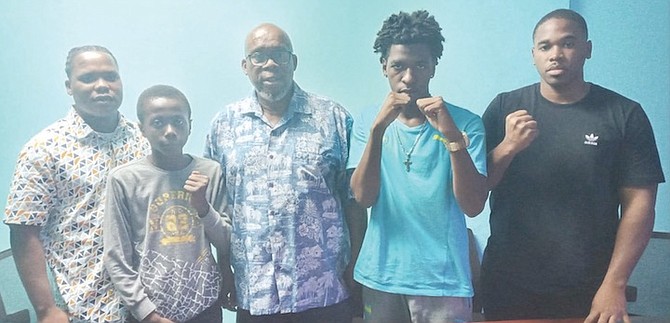 SHOWN, from left to right, are head coach Valentino Knowles, boxer Milton Newbold, federation president Vincent Strachan and boxers Keano Cox and Tyrone Humes before they leave town with the rest of the national team this week.
As of Tuesday, November 15, 2022
#WITH the 27-member team already reduced because of the lack of funding, Bahamas Boxing Federation President Vincent Strachan said he's confident the remaining 10 boxers will get the opportunity to travel this week to Kissimmee, Florida.
#Yesterday during a press conference at the office of the Bahamas Olympic Committee, Strachan, naming the team that will participate in the annual Sugar Bert Championships this weekend, said they are still seeking the public's assistance before they leave on Wednesday.
#This is the second tournament this year for the federation, which last took a team to compete in the High School Tournament in Georgetown, Guyana.
#Both tournaments are back after a two-year hiatus because of the COVID-19 pandemic.
#The Sugar Bert Boxing Championships will take place from Friday to Sunday from the beginners to the elite level.
#While Strachan will travel as the team's manager, Valentino Knowles is the head coach, assisted by Jermaine Gibson from Grand Bahama.
#The team will be made up of boxers from Grand Bahama, Inagua and New Providence and they will be staying at the Wyndham Orlando Resort and Convention Center.
#Introduced at the press conference were 11-year-old 85-pound Milton Newbold, 18-year-old high school silver medallist Keano Cox out of Inagua and 20-year-old heavyweight Tyrone Humes.
#The other members of the team expected to travel are Elijah Smith, a heavyweight who won a silver medal at the High School Championships and super heavyweights Clarence Hepburn and Keano Greene, both out of Grand Bahama.
#Also, Christian Thompson, a junior middleweight, Anai Powell, a welterweight, Maleko Davis, lightweight.
#And veteran Carl Hield, who will compete in the elite class.
#"We are looking for great things from these boxers," said Strachan, who will travel as the team manager.
#"Most of them are new, but I am satisfied that they will do well, and they will medal in these championships because the coaches who have been working with them have been doing a very good job."
#Knowles said he likes the make-up of the team, especially the three competitors who attended the press conference, and is confident that although they are all novice competitors, with the exception of Hield, they will perform at their best.
#He said after joining the After Shock Boxing Club a year ago, Newbold has demonstrated that he has the ability to make the team and should have a very good showing in Florida.
#Knowles said Humes, as a heavyweight, has also demonstrated his ability to perform and he's looking forward to him making his presence felt.
#"I am confident with the team that we are going down with," Knowles said.
#"We intend to bring back some gold medals and be productive.
#"But this is a novice team, and they will be getting their feet wet.
#"I'm not looking for any high expectations, but it's a feeder system for them. We just want them to go out there and do their best at this time."
#Newbold, a student at Palmdale Primary School, said he's all geared up and ready to compete.
#He sent out a shoutout to his father and his family for pushing him as he works with the After Shock Boxing Club to prepare him to compete.
#"I hope to bring back a gold medal. I will try my best to bring back one," said Newbold, who gets up at 4am to train.
#"I train every day and I train hard because I want to be one of the greatest fighters in the history of the Bahamas."
#Cox, who moved from New Providence to Inagua where his father got him involved in boxing, said he's enjoying the sport so far. "My preparation for this event has been going very well.
#"I've been training every day, running, doing my pushups, sit-ups, going to the gym," said Cox, as he expressed his thanks to his coaches Rico Arnett and Vincent Deleveaux, who have been pushing him along with his parents and his family.
#"If it wasn't for them, I wouldn't have gotten this far," he said. "They gave me the motivation, especially my mother and father. I want to thank you all."
#And Humes, who has also been training with After Shock Boxing Club for about a year, said he's looking forward to bringing home a gold medal as well. "I would like to thank my coach and my parents for giving me this opportunity and believing in me that I can actually do this," said Humes, a student at the University of the Bahamas.
#"I've been training every day at least two times a week, doing morning runs, sit-ups, push-ups, hitting the bags, sparring and every type of exercise. So, I'm almost like training three times a day."
#After reducing the team, Strachan said they hope that in the future they will be able to secure the necessary funding to take the entire team selected.
#He noted that even as they prepare to travel this week, they are still asking for the public's assistance to get the team off on Wednesday.
#Interested persons can make cheques payable to the Bahamas Boxing Federation or their Commonwealth Bank account number 11150 or contact Strachan at 426-1113 or 601-0002 at the BOC office.
#"We are looking forward to your support to ensure that these boxers have an opportunity to represent this country and indeed do this country proud."
#Following this event, the boxers will prepare for the CARIFTA Boxing Championships from December 10-18 in Dominica.
http://www.tribune242.com/news/2022/nov/15/boxing-team-heading/?news