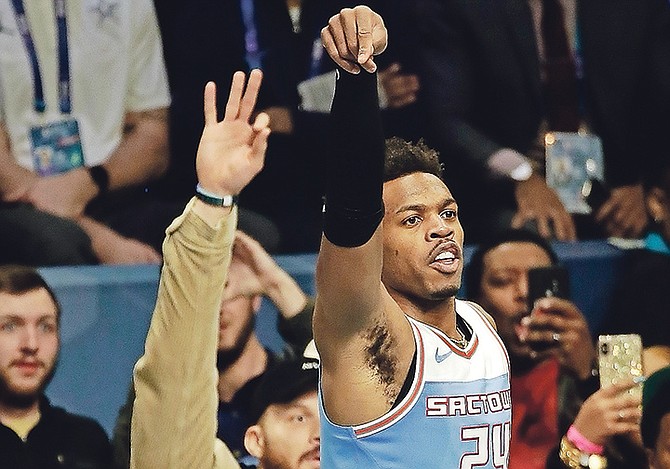 Sacramento Kings' Buddy Hield reacts to making his 26th basket during the NBA All-Star 3-Point contest on Saturday. (AP Photo/Gerry Broome)
#By RENALDO DORSETT
#Tribune Sports Reporter
#rdorsett@tribunemedia.net
#Buddy Hield fell short in his bid to win the title in his debut at the MTN Dew Three Point Shootout, but was recognised among the game's elite shooters at NBA All-Star Weekend in Charlotte, North Carolina.
#Hield reached the championship round in Saturday's event but finished third behind second place finisher Stephen Curry of the Golden State Warriors and eventual champion, Joe Harris of the Brooklyn Nets.
#The third year Kings guard brought fans to their feet with his 26 points in the first round, which topped the leaderboard ahead of Harris (25) for a brief moment before Curry made 27.
#Hield posted 19 points in the championship round while Harris topped the field with 26 and Curry finished with 24.
#Hield began the final round with a make on his first attept, but missed three of his next four shots. He missed all five from the top of the key, which made Harris' score of 26 out of reach.
#"I didn't lose focus, but there was a lot of pressure. Joe [Harris] was just making shots. I didn't know what the score was but I was just thinking 'I can't miss this one' after that I had a bad stretch, finished strong, wish I could have some shots back, but I'll have a lot more chances at it, this isn't the last one that I'll compete in," Hield said.
#"You win some you lose some. It's been a dream come true to be in the three-point shootout. Everyone knows I love the three ball but I'm just blessed and fortunate to be in this position."
#Hield was the first Kings player to compete in the event since Peja Stojakovic.
#"It's a fun competition," he said. "I have to win one before I'm done."
#It was Hield's third appearance at NBA-All Star Weekend. In 2017 his 28 points helped Team World to a 150-141 win over the USA in the Rising Stars Challenge in New Orleans.
#He followed with an active 2018 All-Star Weekend in Los Angeles. Hield participated in the Mountain Dew Kickstart Rising Stars Challenge, the Taco Bell Skills Challenge and he was also one of several players who hosted various NBA Cares Clinics during the NBA All-Star weekend.
#He helped the World Team to a 155-124 win over Team USA and his numbers were again in MVP contention with 29 points, five made threes, three rebounds and three assists.
#Hield, 26, finished last season as the Kings second-leading scorer averaging 13.5 points (.446 field goal percentage, .431 three-point percentage, and 88 three throw percentage), 3.8 rebounds, 1.9 assists, 1.06 steals in 25.3 minutes per game.
#Hield now has 195 three-point makes this season in just 57 games to surpass his previous high of 176 set in the 2017-18 campaign. He is currently tied for fourth in the NBA in three-point percentage.